Latest from satya pal malik
The MRSSAB 2020, stressed on the need to verify and regulate the entry of persons to Meghalaya and also to monitor and regulate tenants or any other persons residing in rented houses or any other places in the state apart from the existing provisions of the Principal Act.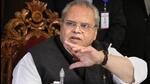 The Central Bureau of Investigation (CBI) on Thursday initiated a probe into the allegations of the former J&K governor Satya Pal Malik.

Addressing an event in Rajasthan's Jodhpur, the Meghalaya governor said that farmers will get what they want, either through talks or fight, or, if needed, through violence.

Congress asked the central government to sack and register an FIR against Meghalaya governor Satyapal Malik if he was lying.

Farm laws repeal: "The crux of the issue remains unresolved. Legal sanctity for MSP was their main demand and I don't think the farmers would relent or call off their agitation till that is done," Satya Pal Malik said.