Latest from textile industry
The focus is on development in Tumkur while ideological issues dominance electioneering in Davanagere

Updated on Apr 21, 2023 10:11 AM IST
The proposed incentives are being discussed at a time when the European Union's proposed Carbon Border Adjustment Mechanism can see higher tariff on Indian goods.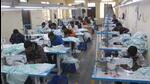 Published on Mar 06, 2022 12:00 AM IST
Lalit Thukral, president of the Noida Apparel Export Cluster, said the pandemic made the situation worse for the ready-made sector. Garment production, both for domestic market and export, was halted for four months between March and June 2020.


Updated on Apr 27, 2021 02:43 PM IST