Latest from union budget of india
The first meeting of the panel constituted by the housing and urban affairs ministry was held on May 27and the location of the proposed centres are likely to be finalised in the next 4-5 months, officials said, requesting anonymity.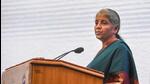 Last week, the Union Cabinet had given its nod to present a bill for the unification of three municipal corporations in Delhi.

On Twitter, Jagat Prakash Nadda highlighted the increased size of the Budget to say that it shows the growing Indian economy.

By
hindustantimes.com
| Written by Kanishka Singharia | Edited by Amit Chaturvedi
, New Delhi
Union Budget 2022-23: Finance minister Nirmala Sitharaman on Tuesday announced a 30 per cent tax on the proceeds made on the transfer of virtual digital assets.

Written by Joydeep Bose
, Hindustan Times, New Delhi
Rajya Sabha deputy chairman Harivansh Narayan Singh urged India's youth to be 'aware of their constitutional rights and duties" during his inaugural address at the event held between January 9 and 11.