Dog gives nose boop to itself with no one around to do it. Watch
Published on Jun 07, 2022 07:03 PM IST
The video of the dog giving nose boops to itself was posted on Reddit.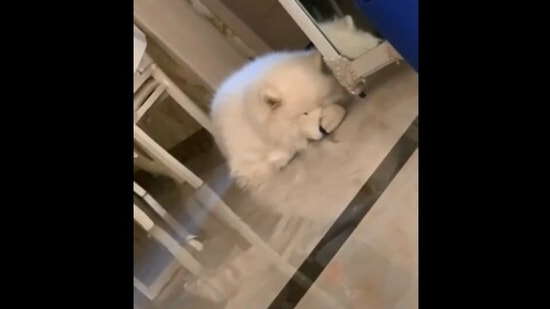 A video of a doggo giving nose boops to itself has turned into a source of happiness for many. The sweet video showcases an adorable doggo and its antics. There is a chance that the beautiful video will make your day brighter. Also, you may be tempted to watch it over and over again.
The video is not new and was posted a few years ago. Since then, the video has been shared every now and then. And each time, the video has created a buzz amid people. This time, the video won people's hearts after being re-posted by a Reddit user. "When no one is around to boop this dog's snoot, he boops it himself," they wrote and shared the post.
The video opens to show a dog lying on the floor. It is seen using one of its paws to give boops to its nose, repeatedly. Take a look at the wholesome video that may leave you grinning from ear to ear.
The video has been shared about 23 hours ago. Since being posted, the video has gathered more than 16,000 upvotes and the numbers are only increasing. The share has also prompted people to post various comments. Some also wrote how the dog looks very fluffy and almost like a "cloud."
"He is sending out some boop code," wrote a Reddit user giving a slight twist to the name of the telecommunication method Morse code. "Self-sufficient puppers," shared another. "This is just too cute! At first look, I thought I was seeing a polar bear cub," posted another. "LOL that reminds me of kids trying to entertain themselves when bored," joined in a fourth. "He looks like a cloud, a soft, fluffy, cloud," expressed a fifth.
What are your thoughts on the video?
Topics
Personalise your news feed. Follow trending topics