Senior doggo's propeller hat doesn't make him fly and bamboozles him. Watch
Published on Mar 07, 2022 08:25 AM IST
This video that was posted on Instagram by We Rate Dogs shows how a senior doggo gets quite bamboozled when his propeller hat doesn't actually make him fly.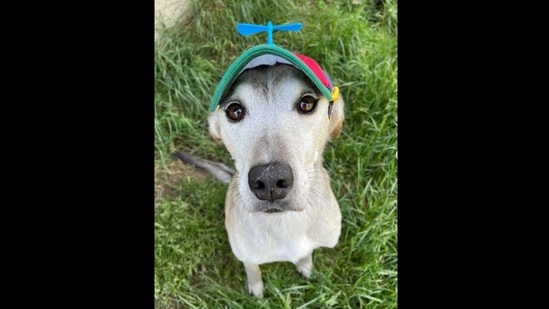 Videos of cute little puppies and dogs are always fun to watch. But the situation becomes even cuter when a senior dog can be seen having fun and living their life in these videos. Recently, the official page of We Rate Dogs on Instagram, shared a video of one such senior dog who gets quite bamboozled and talks about false advertising when he is delivered a propeller hat that unfortunately doesn't not make him actually fly!
The post is complete with an image and a video of this adorable dog who can be seen running around in a patch of green. On his head, one can observe a hat with a propeller on it that is obviously not real but the dog is sad because he 'thought' he would fly. The trending Instagram Reels audio that has been used in the background of this adorable dog video sounds like, "Hey, don't be surprised if one day I just…"
"This is Marv. And this is Marv's puppeller hat. He thought it would make him fly. Definitely false advertising. 13/10," reads the caption that this dog video was shared with. The dog can be seen in the second slide of this post, running around the patch and trying to get the propeller to work with the help of its human who recorded this video.
Take a look at the pic and the video right here:
This adorable dog video was shared on Instagram a day ago. It has accumulated more than 1.1 lakh likes and several comments from people who couldn't stop adoring how cute this senior floof is.
An Instagram user asked wittily, "Can't angels already fly?" Another individual cutely wrote, "He protecc he attacc but most importantly, he wants his money bacc." A third comment reads, "He flew into my heart, so it did work Marv!" "Just tell me where to write a review Marv," reads yet another supportive comment.
What are your thoughts on this dog video?
Close Story
Personalise your news feed. Follow trending topics