This kitty celebrates her first birthday with a cake and a cute outfit. Watch
Jun 27, 2022 10:07 AM IST
This video that has been shared on Instagram shows how a cat celebrates her first birthday and wears a cute outfit while looking at the cake that her human made for her.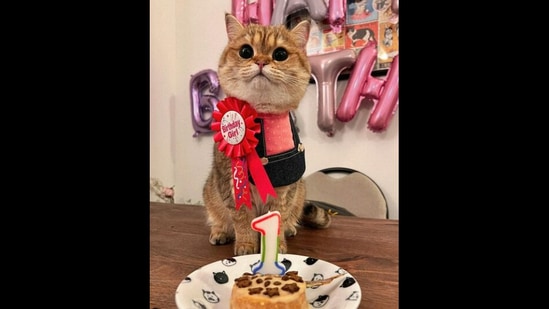 Are you a pet parent? Which one do you have, a cat or a dog? Well, it barely even counts because every single pet parent will make it a fact to treat their little fur baby with the most splendid gentleness and care every single day. And of course, this grows on memorable events such as their birthdays. This particular video that has been shared on Instagram on the page devoted to a cute kitty named Papaya, shows precisely that kind of a day - her first birthday. There is a fine possibility that the video will leave you grinning from ear to ear.
"Happy Birthday Papaya," reads the caption to this cat video that was shared on Instagram along with the emoji of a birthday cake. It also has some hashtags like #cute, #cat, #meow and #birthday. The video shows how the cat's parent prepares a special birthday cake for her and sticks on some cat treats that look like stars. She even gets a special outfit picked out for this occasion and looks indisputably precious in it. The video has been winning hearts all over Instagram.
Watch the cat video below:
The video was shared on Instagram just six days ago and already has received more than 1.21 lakh likes on it. It has also received various comments from people who love cats.
Several people took to the comments section in order to wish the cute cat a very happy birthday. "Aww, I threw a birthday party for my kitties recently! They didn't like the wet food cakes I made, though," confessed an individual. "The fish frosting," pointed out another.