Big Boss 12 day 75: Surbhi Rana attacks Sreesanth, Romil Chaudhary; Megha Dhade performs 'black magic'
In Bigg Boss 12, Surbhi Rana made it her mission of the day to provoke Sreesanth and Romil Chaudhary. She later had to share the jail with Sreesanth.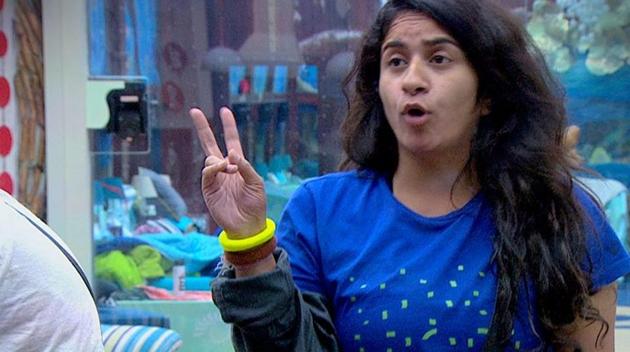 Updated on Dec 01, 2018 01:34 PM IST
As the Bigg Boss played the song 'Nayak nahi khalnayak hai tu' to wake up the contestants, it hinted someone will be revealed as a villain in the house. Surbhi Rana took the lead and started the day by picking up a fight with Sreesanth. She started provoking him by calling him badtameez (ill-mannered) and made fun of his crying episodes and attempts to escape the house. She tried her best to make him lose his temper by mimicking him but he maintained his calm. Dipika Kakar also asked him to not respond to her at all. Later, she was even heard saying that she will hit him outside the jail.
She picked friend-turned-foe Romil Chaudhary as her next target and started calling him a loser. She said that it's now his turn to get evicted from the house. It is to be noted that besides Romil, four more contestants including Dipika, Megha Dhade, Jasleen Matharu and Deepak Thakur are nominated for the evictions this weekend.
It was now the time to send the culprits to kalkothri (jail). Bigg Boss asked the house inmates to nominate three contestants they wanted to punish this week. On the basis of votes, Sreesanth, Deepak and Surbhi were chosen to be sent to the kalkothri. As Surbhi and Sreesanth went to the jail together, they continued to fight there as well.
Bigg Boss introduced a new task for the jail inmates titled 'Chaabi Udan Chhu'. One contestant had to cover up for their friend in the jail and had to break the ice to get the key to free him/her. Megha covered up for Sreesanth and managed to free him from the jail.
In order to add to the entertainment factor, Bigg Boss assigned a secret task to Megha. She was told to make the contestants believe that there is a negative power in the house. She cut a lemon into half, pierced a needle into it and placed it on the stairs nears the washroom. She then told Jasleen that someone woke her up from her sleep. Jasleen discovered the lemon near the washroom and got suspicious.
Follow @htshowbiz for more
Close Story
Personalise your news feed. Follow trending topics