Bigg Boss 12 day 58: Sreesanth recalls Tihar jail experience, Dipika and Jasleen out of captaincy race
Four Bigg Boss contestants including Dipika Kakar, Jasleen Matharu, Megha Dhade and Rohit Suchanti were ousted from the captaincy race during the luxury budget task.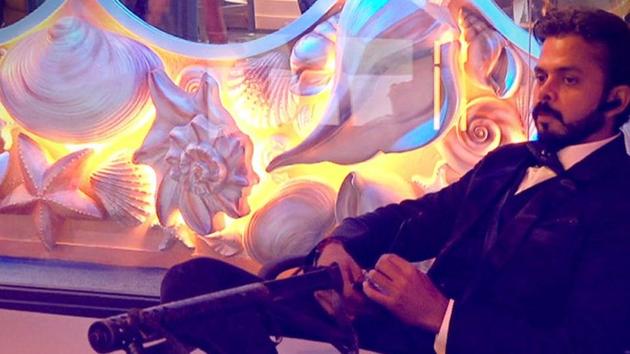 Updated on Nov 14, 2018 11:19 AM IST
The Bigg Boss season 12 witnessed an emotional moment as Sreesanth recalled his days in Tihar jail while washing the dirty utensils in the house. The former cricketer, along with Rohit Suchanti, was punished for breaking the house rules and several huge dirty utensils were sent in the house for the purpose. The incident had also led to a huge fight between Megha Dhade and Deepak Thakur as the former volunteered to help the two and Deepak called her an opportunist.
As Sreesanth felt insulted about washing the dirty utensils, he decided to walk out of the house but was consoled by the Bigg Boss. Karanvir Bohra, who had named him for the punishment, also felt sorry and patched up with him.
Beginning the luxury budget task, Bigg Boss appointed Sreesanth and Romil Chaudhary as 'hitmen' who could murder the contestants symbolically to remove them from the captaincy race. A vault was placed in the house from which the contestants could collect coins to place a murder contract with one of the hitman to remove their opponent. The currency equivalent to the coins was to be deducted from the winning prize amount of ₹45 lakh. The hitman with the higher income would also be eligible for captaincy.
As the task progressed, Romil went on a killing spree as he first murdered Jasleen Matharu for a contract of ₹75000. He then went on to murder Dipika Kakar for the highest contract amount of ₹4.40 lakh. She was followed by Megha who was killed on Deepak's contract of ₹3.90 lakh.
Upset with the eradication of his friends, Sreesanth accepted Karanvir's contract of ₹3.60 lakh for killing Rohit. By the end of the episode, Megha, Dipika, Rohit and Jasleen were ousted from the captaincy race.
Follow @htshowbiz for more
Close Story
Personalise your news feed. Follow trending topics