Bigg Boss 2 Telugu, episode 77: Nani loses calm, begins show by berating Tanish and Kaushal
Hindustan Times |
, Chennai
HT Correspondent
Aug 26, 2018 10:57 AM IST
Bigg Boss 2 Telugu, episode 77: Nani asks Tanish and Kaushal why the two people who are involved in the punishment given to the Captain, fight unnecessarily in the house.
Nani, the host of Bigg Boss season 2 began Saturday's episode on a light note as he spoke to the audience. But his mood changed entirely when he watched what transpired in the house on Friday with the audience. Because of Ganesh sleeping in the house, Deepthi, who had finally become the captain of the house, lost her post as punishment.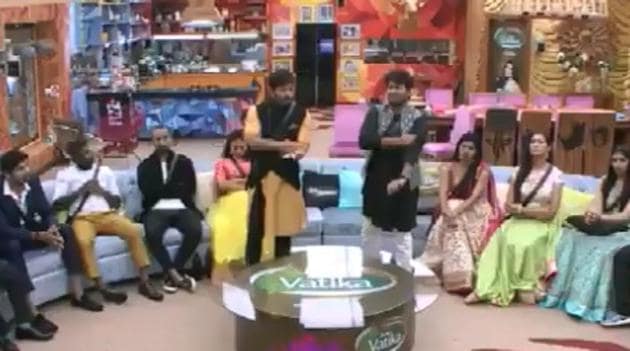 This resulted in Kaushal making snide remarks about how things were better during his captaincy and both Tanish and Geetha couldn't stand his boasting. It resulted in a heated discussion at the dinner table which was distasteful and Nani let both Kaushal and Tanish know about it. Especially Tanish, who was not involved in the incident at all.
It was after all Deepthi who was punished and if anyone had to take offence, it should have been her. Tanish then explained that his reaction stemmed from the fact that Kaushal always made use of others' misery to point out how he is better. Nani also asked Geetha if she had become overconfident in the house because she had said that if people didn't follow the rules of Bigg Boss house it was their wish and they would deal with the punishment.
Geetha, however, explained that she only said that for argument's sake to shut Kaushal up and explained that she was stressed because of his behaviour. She explained how his incessant talk about himself and how he was better than the other housemates, or how he never had anyone's support when she herself had supported him multiple times, made her lose patience and give up even talking to him. She also explained that for a person who doesn't take anything apart from life-or-death situations seriously, she was being forced by Kaushal to take things seriously.
After addressing the key members who were involved in the incident, Nani also took Ganesh to task for not taking care of his health in the house, ignoring doctor's instructions and letting fame get to his head all in one go.
After this, the actor spoke to Deepthi and said that for the hard work she had put, the punishment that she received was a bit too much. He told her that she had to be punished, but maybe not like this. He also wished her happy birthday and then lightened the mood by playing some fun game during the rest of the episode.
Follow @htshowbiz for more