I'm one of those irritating parents who show their baby's pictures to everyone: Kashmera Shah
Actor Kashmera Shah says that she used to found other parents irritating when they would do baby talk and show their kids' pictures all the time.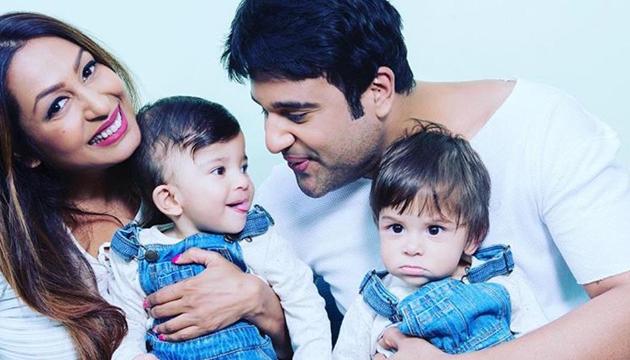 Updated on Jun 30, 2018 04:38 PM IST
By Monika Rawal Kukreja
, New Delhi
Actor Kashmera Shah has her hands full, not only taking care of her one-year-old twin sons but also shooting for a film that she has written and is directing.
"So you see, the day is fully packed," Kashmeera continues, "And mine is a 27-hour long day. My kids are very noisy, making me run around the house [all the time] and not letting me work. But, I've never known patience the way I have it today. I'm surprised and amazed. We've become kids with our kids."
Read | Kashmera Shah on opting for surrogacy: I think my kids didn't want me to go through the trouble of nine months
Like all other parents, Kashmera admits that she can't stop talking about her children. "We (actor Krushna Abhishek and she) used to find other parents irritating when they would do the baby talk or show their baby's pictures to everyone around them all the time. I'm one of those irritating parents now," she laughs.
+ +
Has motherhood affected her work-related priorities in any way? "No. In fact, if anything, I want to work harder because I want my kids to know that their mum is a director, a fighter, a survivor! They should know that I have made a name in this industry with no backing. I want them to be proud of me and everything that I've done, so I am striving each day to do good roles and make better films."
Agreeing that the entertainment industry treats mothers any differently from other actors, Kashmera calls it a "universal phenomenon". She explains, "Everywhere in TV and films, actors who become mothers, are treated differently. Suddenly, people will be like, 'Oh, she's a mom, so she can't play a sex symbol role."
However, she is quick to add, "But I feel that actors like Kareena Kapoor Khan and Aishwarya Rai Bachchan have changed this notion. [The late] Sridevi changed it years ago. So, I think slowly, the women of this industry are changing the norms and I'm proud to be one of them.".
Interact with Monika Rawal Kukreja at Twitter/@monikarawal
Close Story