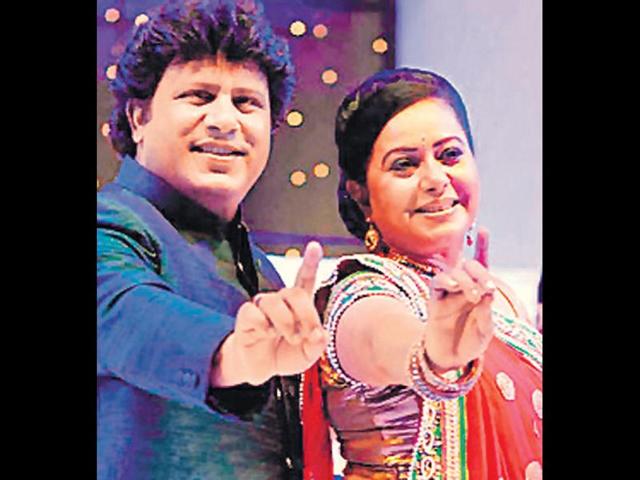 Nach Baliye: Dancing tearily to glory?
Nach Baliye kicked off its fifth season with a glamorous, crowd-pleasing episode that fetched the channel excellent ratings, writes Poonam Saxena.
UPDATED ON JAN 04, 2013 11:50 PM IST
Ever since Kaun Banega Crorepati (KBC) hit our TV screens more than ten years ago, reality shows (mostly adaptations of foreign shows) have become standard offerings, alongside soaps and serials. If the latter are the daal-roti of every channel, the former are the masala-tadka.
Not that all reality shows have been appetizing; scores of forgettable ones came and went (does anyone remember the clunky and boring KBC rip-off Sawaal Dus Crore Ka on Zee, or that strange matrimonial show on Star Plus called The Perfect Bride, where girls and boys, mummies in tow, tried to find potential spouses by going out on 'controlled' dates?).
There have been an equal number of reprehensible shows that have unfortunately stayed on season after season (shows like Roadies come to mind; unless your idea of enjoyment is to watch a bunch of not very nice kids swearing at each other, what's to like? It's difficult to associate likable people – such as Ayushmann Khurrana of Vicky Donor fame and depressingly, a former Roadies participant -- with this unlikeable show).
But there are some reality shows which have withstood the test of time. The star in this category -- hands down -- is KBC with Amitabh Bachchan as the host. Others, mostly singing-dancing shows, have continued doggedly over the years: sometimes they've sparkled and sometimes they've sunk like lead.
Like Nach Baliye, the celebrity dance contest that kicked off its fifth season last weekend (Star Plus) with a glamorous, crowd-pleasing episode that fetched the channel excellent ratings.
The hosts this year are TV actors Karan Wahi and Gautam Rode who are clearly trying very, very hard to be funny and entertaining. The judges are actress Shilpa Shetty (sweet and charming and very tall; like the Qutub Minar, as one of the hosts helpfully pointed out); film director Sajid Khan (who pouts quite a lot) and choreographer Terence Lewis (amiable, with scary hair).
The 11 celebrity couples are a mixed bunch – TV stars, reality show regulars, a few surprises, some names you've never heard of and so on. So far, it's all been light-hearted fun though we did have two extended sob fests. If they can keep the tears in check, it'll be a better show.
A serial that's been around for quite a while and has finally begun to get good ratings is Madhubala (Colors). This is the love story of an arrogant and insensitive film star RK (Vivian Dsena, whose chief claim to fame is his turn as a vampire in the now-ended vampire show, Pyar Ki Ek Kahani) and the simple middle class girl, Madhubala (Drashti Dhami, who gained many ardent fans in her earlier show, Geet Hui Sabse Parayi) that he marries.
There are many other strands around this main story and it's all highly melodramatic but the story-telling style is different from the TV norm. Drashti comes across as vulnerable but not timid and RK is nasty but not really a monster. I've watched Madhubala intermittently and though I've never got hooked to the show, it does have its moments.Sometimes, even small baby steps are enough to make one feel quite optimistic.

Close