Not just Daredevil, here's a super-list of super-amazing superhero shows
Here are a few that we have loved and some that we want you to steer clear of:
tv
Updated: Mar 18, 2016 09:46 IST
Season 2 of the super-hyped TV show Daredevil, pun not intended, is almost here. As we prepare ourselves for a March superhero showdown that isn't Batman v Superman, we take a look other great TV shows in this genre.
Ever since the days of Lou Ferrigno's Hulk and Adam West's Batman, we've always loved superhero shows. And now, with the golden age of both TV and superheroes, it is the stuff of dreams for fans of these larger-than-life characters who put on funny costumes and go save the world.
Here are a few we have loved and some we want you to steer clear of:
Batman: The Animated Series (1992)
This is, according to many (and us), one of the best portrayals of a comic book character ever. TAS, as fans call it, captured the true essence of Batman. It was a beautifully animated, stylishly designed show, but what made it stand out was the amazing writing. To this day, we remember the Mr Freeze episode for the maturity it brought to what is essentially a kids' cartoon. And what can we say about Kevin Conroy and Mark Hamill that hasn't been said yet? Nothing.
Agent Carter/Agents of SHIELD (2015)
While the Marvel movies are consistently well-received, their TV properties haven't quite achieved that level of success. Agents of SHIELD is a scattershot show that is delirious fun with one episode and just plain old procedural in the next. But Agent Carter on the other hand, is brilliant. Haley Atwell's performance as a woman in a man's world is thrilling fun. And the detailed period setting makes the whole thing seem like a '50s movie.
Smallville (2010)
Before there was Man of Steel there was Smallville, a show about Clark Kent's childhood in - you guessed it - Smallville. It's a unique take on an origin story we all know so well. To take Superman's legendary story and make it a coming-of-age drama where Clark doesn't put on that iconic cape till the very last episode cemented its position as one of the greatest shows of all time.
Heroes (2006)
The first season of Heroes was absolutely stunning. The characters were all interesting and were developed thoughtfully through the season. They were treated with respect and their stories were told realistically, despite the odd things they were experiencing as they discovered their abilities. But it was all downhill from there. That first season though is just about worth it all.
Arrow (2012)
Arrow is the show that started a small revolution on TV. It's success created a superhero universe of DC characters even before the movies. Sure, Oliver Quinn's story is familiar (*cough-batman-cough*), but because of this show, we got Flash and Supergirl. Not to mention the very comic book-like crossover episodes. And that's what's so great about Arrow: It's like watching a comic book issue come to life. And isn't that what we all want?
Read: Daredevil trailer- Season 2 promises to be just as good, if not better
Powerpuff Girls (1998)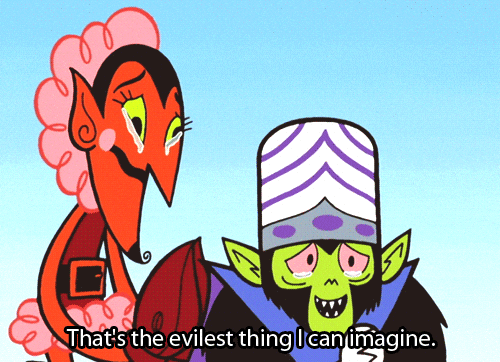 Not one but three almighty, righteous and invincible superheroes, a back story that is as awesome as it gets and a rogues gallery that is enough to send chills down your spine just at the very mention of a few names. Yes, we are talking about the Powerpuff Girls. Made in a laboratory, like all best superheroes, these girls were responsible for keeping Townsville safe from villains like Mojo Jojo, Him, Boogey Man and Amoeba Boys.
Mojo Jojo had an origin story that resonated with each one of us, a beloved pet who was discarded and ignored once Professor Utonium brought the girls to life. His sadness and misery could only be quenched by revenge. Remember Him? Someone so frightful, you could only call him Him. Just one episode with that Satan-spawned red beast was enough for a week full of nightmares. We can count more but maybe we have already established how awesome it was.
Misfits (2009)
We have all always wanted some superpowers but what if we, actual common people, full of faults actually do get it? Misfits was about a weird lightining storm that gives a bunch of young offenders in community service some really cool superpowers. There was one who could go back in time and one who could make people crazy for sex if they touched her. One gained the immortality and a massive dork was suddenly super awesome. The entire series was shot very realistically which always made you feel that yes, this is what it would actually be like. Also, there was a villain who could control milk. Sounds harmless right? It so wasn't.
Jessica Jones (2015)
Rarely do TV networks ever get superhero shows with a female lead right but looks like times are changing. Netflix's Jessica Jones is about a woman with superhuman strength who was tortured and raped by a man called Kilgrave. Kilgrave could make people do what he wants by just saying what he wants them to do, out loud. The well choreographed stunts, the on-point acting by David Tennant as Kilgrave and Krysten Ritter as Jessica, but mostly the gripping story and frequent twists keep the audience happy through the entire season. Watch it, you will love it.
Supergirl (2015)
So that's what we meant by not getting superheroines right. The story itself is so stupid: Supergirl aka Kara Zor-El is Superman's distant cousin and she too survived the destruction of Krypton. Also, she landed on Earth like Superman. She too wears glasses to conceal her real identity. What?? Is there anything original here at all? But apparently, some people still watch it, so judge for yourself.
Flash (2014)
This one is just too chocolatey to be taken seriously. No doubt, to be able to run at the speed of light is an amazing superpower to have but that is basically it for this show. It is a spin-off from Arrow and spin-offs rarely do well (not looking at you Better Call Saul, you keep doing your thing). So Flash is actually Barry Allen (the least superhero-y name one could have), a crime scene investigator who is really pretty fast. He fights bad guys while juggling with some romance. Zzzzzzz... we're bored already.
The authors tweets as @NaaharRohan and @soumya1405
First Published: Mar 18, 2016 09:45 IST