India, US would be 'best friends' if I am elected president: Trump
Updated on Oct 16, 2016 10:23 AM IST
US Republican presidential candidate Donald Trump pledged that the United States and India would be "best friends" if he is elected and that he would boost intelligence sharing with India in the battle against Islamic militants.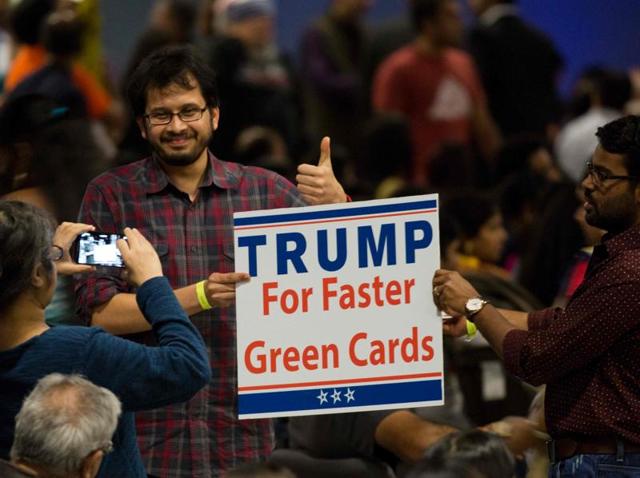 Hindustan Times |
, Edison
Yashwant Raj
Republican presidential nominee Donald Trump on Saturday called India a "key strategic" and "natural" ally, and promised Indian Americans that he would take bilateral ties to a new high if made US president, and even boost intelligence sharing in the fight against terrorism.
"No relationship will be more important" and the two countries will be "best friends", he told a gathering of the Indian diaspora at an event sponsored by the Republican Hindu Coalition (RHC) to raise money for victims of terrorism. Started in 2015, the RHC is modelled on the powerful Republican Jewish Coalition, and was launched by Chicago businessman Shalabh "Shalli" Kumar.
Trump then spoke glowingly of Prime Minister Narendra Modi -- a "great man", whose "energetic" bureaucratic reforms he would like to emulate -- high praise from a candidate known for disparaging rivals.
He further touched upon terrorism -- a crucial topic for India at the moment as it seeks to have Pakistan designated as a sponsor of terrorism, and also pushes for the adoption of an anti-terror convention.
Though he did not name Pakistan, Trump cited the 2001 Parliament attack and 2008 Mumbai attacks to say India is a victim of cross-border terrorism, and promised to "stand shoulder to shoulder with India in sharing intelligence and keeping our people safe".
Scoring low in most every poll and battling a series of allegations by women claiming he sexually assaulted them, Trump's rally was a direct pitch to Indian Americans, a small but prosperous community aggressively seeking commensurate political clout.
Read | Trump or Hillary: How Indian-Americans plan to vote in the US election
Trump even made history of sorts as the first presidential candidate to directly address the community; in his partisan speech that lasted nearly 13 minutes, he began by claiming he was "a big fan of Hindus, and a big fan of India".
Of the present two nominees, Trump is the only one to have spoken thus far about ties with India in such explicit terms. Clinton has used surrogates, such as her campaign chairman John Podesta and close associate Neera Tanden, for reaching out to the Indian-American community.
But Trump, who is fighting to keep his presidential chances alive, may not be able to swing Indian Americans his way; the community has voted and supported Democrats historically. However, many in the audience said they wanted to give him a chance, a hearing at least. Nevertheless, they cited serious concerns about him, his style and his remarks about Muslims -- reasons why they are unlikely to vote for him.
Trump grabbed whatever chance they were willing to offer, making a full-bodied pitch for their vote and support, focussing on the issues that move most Indian Americans -- the state of US ties with India, and Prime Minister Modi, who is hero-worshipped by many of them.
As it stands, Modi has developed a friendly relationship with President Barack Obama, a Democrat who wants Trump's opponent, Hillary Clinton, to win the November 8 election.
The US has also been backing New Delhi's bid to join the influential Nuclear Suppliers Group, though China, who Pakistan considers their all-weather ally, has been blocking it.
"India is a key strategic ally," Trump said, "I look forward to deepening diplomatic and military relationship that is a shared interest of both countries."
He then called India a "natural ally", a variation of a phrase first used by former prime minister Atal Bihari Vajpayee in a speech at the US think tank in 2000; he had called India and the US "natural allies".
But the partisan nature of Trump's speech — he repeatedly proclaimed his "love for the Hindus" — tended to cast a shadow on the substance of his speech, that he was promising to scale up ties with India as never before.
For more on the 2016 US presidential elections, click here.
Personalise your news feed. Follow trending topics