British Airways could face £100 million bill in compensation over flight disruption
Updated on May 29, 2017 07:55 PM IST
Over 1,000 flights faced delays and cancellations due to IT problems faced by BA.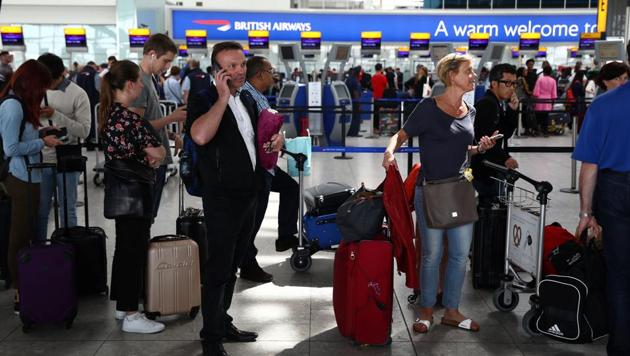 London |
Indo Asian News Service
British Airways could face a bill of at least £100 million in compensation, additional customer care and lost business resulting from an IT meltdown which affected more than 1,000 flights over the weekend.
All the airline's flights from Heathrow and Gatwick were grounded on Saturday, The Guardian reported.
Services resumed on Sunday but cancellations and delays delays persisted with about 200 BA flights in and out of Heathrow cancelled on Sunday, according to Guardian calculations.
There were no cancellations at Gatwick but some passengers experienced delays.
The glitch is believed to have been caused by a power supply issue and there is no evidence of a cyber-attack, the airline said.
In a video posted on YouTube, Alex Cruz, Chief Executive of BA, admitted that all the IT systems were not yet restored. "Many of our IT systems are back up today. All my British Airways colleagues on the ground and in the air are pulling out all the stops to get our operation back up to normal as quickly as we possibly can, we're not there yet."
"I know this has been a horrible time for customers. Some have missed holidays, some have been stranded on aircraft, some separated from bags and some stuck in long queues while they have waited for information. On behalf of everyone at BA I want to apologise for the fact you've had to go through these very trying experiences," said Cruz.
As hundreds of passengers remained stranded, the GMB union blamed job cuts at BA for the IT problems which were thought to relate to a power outage.
Mick Rix, GMB national officer for aviation, said: "This could have all been avoided. BA in 2016 made hundreds of dedicated and loyal IT staff redundant and outsourced the work to India. BA have made substantial profits in for a number of years, and many viewed the company's actions as just plain greedy."
Both Gatwick and Heathrow advised passengers to check the status of their flights after terminals became congested with travellers hoping to get away for the long weekend and half-term school holiday. BA was asking passengers not to turn up until 90 minutes before their flights because of the level of congestion at Heathrow.
Personalise your news feed. Follow trending topics