China lands long-range bombers on South China Sea island for first time
The China Daily newspaper reported that the People's Liberation Army Air Force conducted takeoff and landing training with the H-6K bomber in the South China Sea.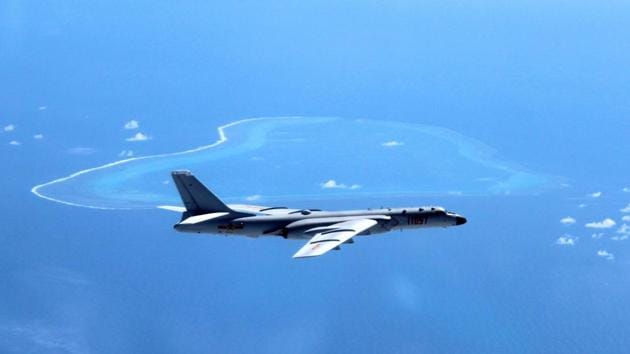 Updated on May 19, 2018 03:10 PM IST
Sutirtho Patranobis, Hindustan Times, Beijing | By Sutirtho Patranobis
China has landed a nuclear-capable bomber aircraft on an island reef in the South China Sea, where it is locked in maritime disputes with neighbouring countries such as Vietnam, Malaysia and the Philippines.
While state media said the first-of-its-kind move has "tremendously" enhanced China's ability to counter threats in the sea, Washington held that the move will increase tension and further destabilise the region.
Lieutenant colonel Christopher Logan, a Pentagon spokesperson, termed the exercise as a part of "China's continued militarisation of disputed features in the South China Sea".
The H-6K bomber aircraft fleet of the Peoples Liberation Army's air force conducted landing sorties and simulated attacks during the recent exercise in the South China Sea, state media said. "Several H-6Ks from an unidentified aviation division, headed by division commander Hao Jianke, took off from an undisclosed air base in South China and made a simulated strike against sea targets before landing on an island in the South China Sea," it quoted the air force as saying in a statement.
"The statement quoted Wang Mingliang, a researcher at the PLA Air Force Command College, as saying that take-off and landing exercises on islands in the South China Sea will help strengthen the air force's combat capability in dealing with marine security threats," a report in the People's Daily, mouthpiece of the Communist Party of China, said.
Experts told the state media that deployment of bomber aircraft at islands in the South China Sea will greatly enhance the air force's operational range as well as the country's maritime defence parameters.
China is among the few countries in the world that have bombers like the H-6K with a possible range of 3,500 km. "The H-6K is the PLA's most advanced bomber and is capable of carrying supersonic cruise missiles to make precision strikes on land targets or ships," the state media reported.
The Chinese government claims to have at least four airports capable of handling large aircraft in the South China Sea despite disputes with multiple maritime neighbours. They are located on the Meiji, Zhubi and Yongshu reefs of the Nansha Islands, and Yongxing in the Xisha Islands.
Bonnie Glaser, a China security expert at the Centre for Strategic and International Studies in Washington, told the Hong Kong-based South China Morning Post that the H-6K landed on Woody Island – Yongxing in Chinese – where the country's Sansha city government is located. "I believe this is the first time a bomber has landed in the South China Sea," Glaser said. "No doubt the H-6K will soon land on an island in Spratly Islands (known in China as the Nansha Islands) as the hangars there are built to accommodate bombers."
Close Story