China says it has tested guided missile close to Korean peninsula
May 09, 2017 08:49 PM IST
China has recently tested a new type of guided missile in a northeastern sea near the Korean peninsula, the defence ministry said Tuesday
China has recently tested a new type of guided missile in a northeastern sea near the Korean peninsula, the defence ministry said Tuesday, hours after South Korean elections and amid regional tensions.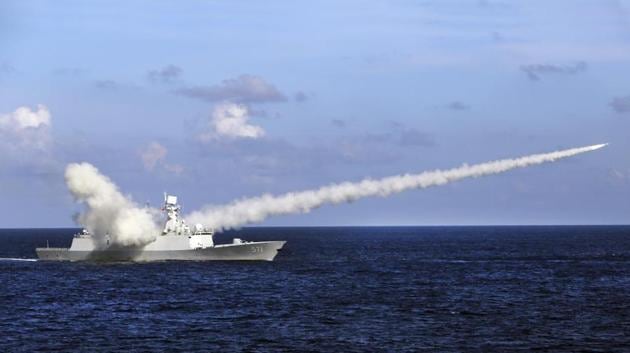 The test in the Bohai Sea was conducted to "raise the operational capability of the armed forces and effectively respond to threats to national security," the ministry said in a brief statement.
The statement did not say when the launch took place, only that it happened "recently." It did not give any details about the missile nor the type of platform from which it was launched.
The Bohai Sea is a body of water off the coasts of Tianjin municipality, Shandong, Hebei and Liaoning provinces.
The announcement came on the day that South Koreans elected left-leaning former human rights lawyer Moon Jae-In in a presidential election held after a scandal led to the impeachment of the country's previous leader.
The test also comes as China, the United States and the Koreas are locked in a complex diplomatic spat over Pyongyang's missile launches and potential new nuclear tests.
The US military has installed an anti-missile defence system in South Korea to counter the North Korean threat, but China sees the deployment as a threat to the regional security balance and its own ballistic missile capabilities.
The THAAD system is designed to intercept and destroy short and medium-range ballistic missiles during their final phase of flight.
The US said the THAAD deployment was aimed at countering any missile attack by North Korea against South Korea, Japan and US itself.
China has vowed appropriate response for THAAD missile batteries.
China also said its troops carried out exercises close the North Korean border as US President Donald Trump stepped up pressure on the North Korean leader Kim-Jong-un to scale back the nuclear and missile programme.
China, an acknowledged missile power, has several short, medium and long range missiles. Its Dong Feng 31 (DF-31) is the longest with a range of 11,700 kms.
In 2015, China for the first time demonstrated a whole range of long, medium and short range missiles during a military parade. It included Dongfeng-21D missile, the anti- ship ballistic missile described as the "carrier killer".
It had caused concern among US defence officials as it reportedly has the ability to blow up aircraft carriers from a distance of about 1,500 km to 1,700 kms.