China welcomes PM Modi's 'positive' remarks in Singapore
Updated on Jun 03, 2018 09:17 PM IST
A top Chinese general who led Beijing's delegation at the 17th Shangri-La dialogue in Singapore called it a "positive" assessment of ties between the two countries.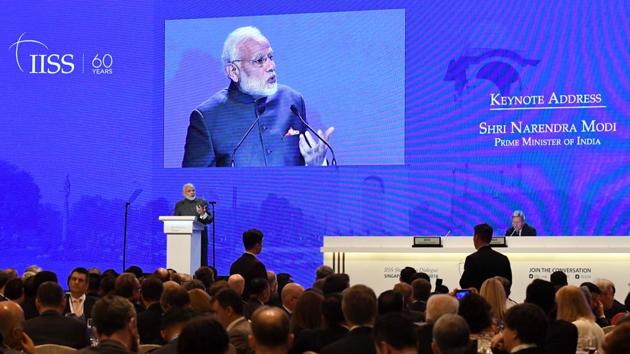 Hindustan Times, Beijing |
Sutirtho Patranobis
China has welcomed as "positive" Prime Minister Narendra Modi's remarks at a Singapore forum that India-China cooperation is good for the world's future.
Delivering the keynote address at the 17th Shangri-La Dialogue in the city-state of Singapore, Modi called bilateral ties as layered, and said he firmly believed that Asia and world will have a "better future if India and China work together with trust and confidence, keeping in mind each other's interests".
A top Chinese general who led Beijing's delegation to the forum called it a "positive" assessment of ties between the two countries.
"Modi gave a positive assessment of China-Indian relations in his speech," lieutenant general He Lei told state media.
It was also noticed in Beijing that Modi avoided any mention of the Quad — comprising US, Japan, Australia and India — in his speech and instead spoke out against trade protectionism in a not-so-veiled reference to the US.
Modi's statement and the Chinese response comes a week before the Indian PM is set to attend the Shanghai Cooperation Organisation (SCO) summit in the coastal city of Qingdao where he is also set for a bilateral meeting with President Xi Jinping, the second time in less than two months.
India and Pakistan will attend the SCO summit for the first time as full members of the bloc.
Xi and Modi met for an informal summit in the central China city of Wuhan on April 28 and 29 where the two interacted — mostly one-on-one — for nearly 10 hours.
The exchange of positive statements ahead of the SCO summit continues to mark the remarkable turnaround in bilateral ties after it plunged into a near-freeze during and in the aftermath of the Doklam military standoff last year.
Reacting to Modi's speech in Singapore, Chinese academics said it was a positive movement in ties, but also qualified it saying that the Indian PM could be sending positive signals to ensure he attracts more votes at upcoming elections.
"Modi's remarks sent a signal of goodwill toward improving China-India ties, which had been soured by a military standoff last year," Hu Zhiyong, a research fellow at the Shanghai Academy of Social Sciences' Institute of International Relations, told the Global Times, a state-controlled tabloid with ties to People's Daily, the mouthpiece of the Communist Party of China.
"Modi administration needs improved China-India ties to help it win more votes in next year's election," said Hu.
"The India factor is what makes this year's dialogue different from previous ones," Zhao Xiaozhuo, a research fellow at the PLA Academy of Military Sciences, told the newspaper.
"The Indo-Pacific strategy, and the quasi-alliance between the US, Japan, India and Australia will not last long," Zhao said.
The Shangri-La dialogue is a multilateral platform focusing on the defence and security situations in the Asia-Pacific region.
More than 600 delegates comprising leaders and officials from 40 countries and regions attended the event.
Personalise your news feed. Follow trending topics