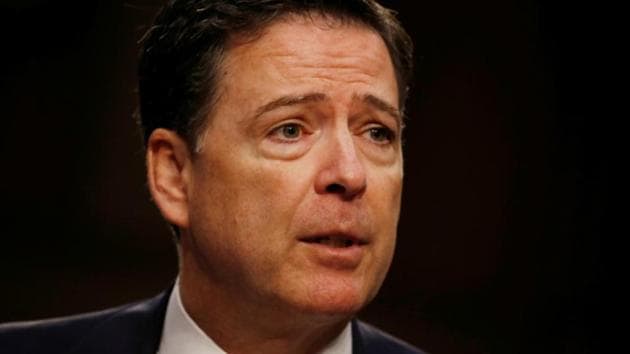 Donald Trump morally unfit to be US President, says fired FBI chief James Comey
Former FBI director James Comey, in his book scheduled to be released next week, has said before that US President Donald Trump had seemed fixated about proving false an encounter with prostitutes in Moscow that Russian intelligence had alleged filmed.
Hindustan Times, Washington | By Yashwant Raj
UPDATED ON APR 16, 2018 11:05 PM IST
Donald Trump is "morally unfit to be president" of the United States and should be voted out, former FBI director James Comey has said, escalating the war of words with the man who fired him.
Impeaching Trump was not the right remedy, he told ABC News anchor George Stephanopoulos on Sunday, while speaking at length about his book that releases on Tuesday.
A Higher Loyalty: Truth, Lies and Deception is an account, among other things, of his brief stint as Trump's FBI director, before being fired last May just four months after the president took office.
Reports based on advance copies of the book indicate there are no major revelations in it but just more granular descriptions of episodes, events and conversations that were already known.
And the president, who considers himself an aggressive counterpuncher, has already responded, with predictable vehemence, calling the former FBI director a "liar" and "slime ball" in a string of tweets just hours before the interview aired.
Trump watched bits of the interview, White House press secretary Sarah Sanders told reporters on Monday, and added, "We didn't learn anything new. Pretty much the same feelings. The president has been pretty clear what those are, as has the rest of the administration. Comey is a self-admitted leaker. Been proven to be dishonest. And I think that his credibility is really at hand, and it's quite interesting that he would question someone else's when he has such a lack of credibility himself."
But Comey has seemed not only undeterred by the president's attacks, but more determined.
Asked during the interview if he thought Trump was unfit to be president, Comey rode right in: "Yes".
"But," he added, "I don't buy this stuff about him being mentally incompetent or early stages of dementia. He strikes me as a person of above average intelligence who's tracking conversations and knows what's going on. I don't think he's medically unfit to be president. I think he's morally unfit to be president."
Comey proceeded to list out reasons: the president's "moral equivalence" on Charlottesville race clashes — when Trump spoke of good people on both sides; his treatment of women like "pieces of meat"; and who "lies constantly about matters big and small and insists the American people believe it".
But impeaching him was not the right remedy, Comey said, when asked directly. And, realising that his reason for disagreeing would appear unusual, he prefaced his reply thus: "I'll give you a strange answer."
"I hope not (that Trump is impeached) because I think impeaching and removing Donald Trump from office would let the American people off the hook and have something happen indirectly that I believe they're duty bound to do directly. People in this country need to stand up and go to the voting booth and vote their values."
Comey conceded that Trump may have to be removed if he was found to have obstructed justice by Special Counsel Robert Mueller's team, which is investigating Russian collusion in the 2016 election and possible collusion by Trump campaign.
He added, "But in a way, as a citizen, I think we owe it to each other to get off the couch and think about what unites us. I think about the people who supported Trump, and continue to support Trump."
"Our president must embody respect and adhere to the values that are at the core of this country. The most important being truth. This president is not able to do that," he said.
Trump had fired Comey citing the FBI's behaviour in investigating Democrat Hillary Clinton and the Russia probe.
Just 11 days before the 2016 election, Comey announced that the FBI would reopen an investigation into Clinton's possible misuse of a private email server while she was secretary of state -- a move she has said played a part in her loss to Trump.
Comey also said in the interview he thinks it's possible the Russians have compromising information on Trump and that there is "some evidence of obstruction of justice" in the President's actions. That included Trump's request to end an FBI investigation into former White House national security adviser Michael Flynn.
Comey acknowledged that it was "stunning" to think that Russia could have damaging information on a president but said he could not discount the possibility. "It is stunning and I wish I wasn't saying it, but it's just — it's the truth. I cannot say that."
"It always struck me and still strikes me as unlikely, and I would have been able to say with high confidence about any other president I dealt with, but I can't. It's possible," Comey said. (With agency inputs)
Close