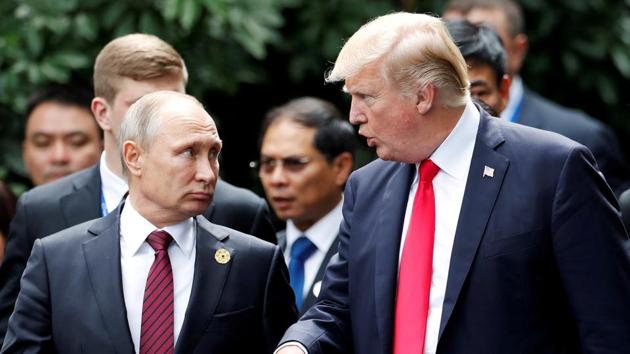 Donald Trump punishes Russian oligarchs, 17 govt officials with more sanctions
A dozen Russian companies owned by the oligarchs were also targeted amid ongoing effort by the US to push back Russian President Vladimir Putin's government and his inner circle, emphasizing that since Trump took office last year.
Hindustan Times, Washington | By Yashwant Raj
UPDATED ON APR 06, 2018 11:37 PM IST
The Trump administration on Friday slapped new sanctions on seven of Russia's richest oligarchs, 12 companies owned or controlled by them and 17 top bureaucrats, citing Russia's efforts to undermine Western democracies and support for the Syrian government and Ukrainian separatists.
The sanctioned oligarchs included President Vladimir Putin's son-in-law Kirill Shamalov, an energy sector executive, and former Trump campaign chair Paul Manafort's business associate Oleg Deripaska, who has deep connections with the government and whom the US has alleged was linked to a murder and a Russian organised crime group.
"We cannot allow those seeking to sow confusion, discord, and rancour to be successful," President Donald Trump said in a statement.
The sanctioned companies linked to oligarchs included United Company RUSAL PLC, one of the world's largest producers of aluminium.
Among the government officials targeted were Andrey Akimov, chairman of state-owned Gazprombank, Russia's third largest bank, and Mikhail Fradkov, head of a research body that provides information support to the presidential administration, Duma and security council.
Also on the list was state-owned Russian weapons trading company Rosoboronexport, which is alleged to have supplied billions of dollars worth of weapons to the Syrian government of Bashar al-Assad. Russian Financial Corporation Bank, an affiliate, was also named.
"The Russian government operates for the disproportionate benefit of oligarchs and government elites," said US treasury secretary Steven Mnuchin, announcing the sanctions.
"The Russian government engages in a range of malign activity around the globe, including continuing to occupy Crimea and instigate violence in eastern Ukraine, supplying the Assad regime with material and weaponry as they bomb their own civilians, attempting to subvert Western democracies, and malicious cyber activities."
He added: "Russian oligarchs and elites who profit from this corrupt system will no longer be insulated from the consequences of their government's destabilising activities."
Those named in the sanctions came from a list compiled earlier in the year by the US of business leaders, politicians and members of Russia's elite considered close to Putin, but not including him. The goal was to hurt the rich and the powerful who tend to park their wealth and families abroad, mostly in London, New York and Miami, and spare the larger population that tend to suffer the most from broader countrywide economic sanctions.
These were the most expansive punitive measures taken by this administration against Russia, torn as it has been between Trump, who has openly advocated warmer ties with the one-time Cold War rival, and the bulk of the administration and US Congress, which have aggressively pushed for punishing the Kremlin for, as Mnuchin said, its "malign activity".
These sanctions stem from a legislation passed with overwhelming bipartisan support by the Congress last year to punish Russia for election meddling, annexing Crime and supporting the regime in Syria, and also to prevent Trump from reversing Obama-era sanctions against Russia.
The sanctions came barely three weeks after the administration acted against 19 Russian individuals and five entities, including the FSB intelligence service and GRU military intelligence unit.
Those were specifically in retaliation for Russian meddling in the US elections in 2016, and the list of those named included all persons indicted by special counsel Robert Mueller, who is investigating the alleged interference and possible collusion by the Trump campaign. His team also interviewed Russian oligarchs during their visit to the US.
Despite Trump's desire for better relations with Russia and Putin, ties have not been so bad in years. The US led a worldwide expulsion of more than 100 Russian intelligence operatives and diplomats over the poisoning of a former Russian spy and his daughter in Britain, for which London has directly blamed Moscow.
Close