Donald Trump speaks to Taiwan's president, irking China
US president-elect Donald Trump kicked off a fresh controversy on Friday when he spoke to Taiwan President Tsai Ing-wen in a major departure from America's decades-old China policy, a move that drew an angry response from Beijing.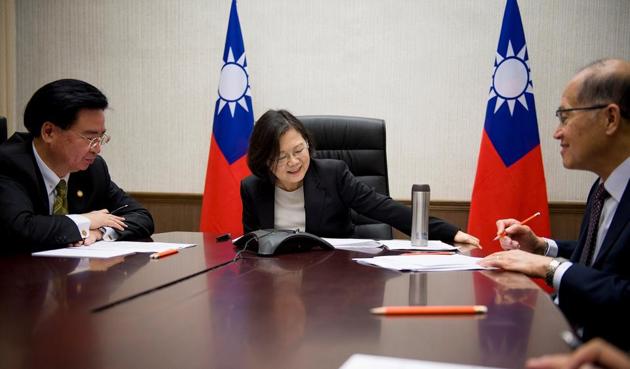 Published on Dec 03, 2016 08:22 PM IST
Hindustan Times | By Yashwant Raj and Sutirtho Patranobis
US president-elect Donald Trump kicked off a fresh controversy on Friday when he spoke to Taiwan President Tsai Ing-wen in a major departure from America's decades-old China policy, a move that drew an angry response from Beijing.
A bristling China on Saturday dismissed the phone call as a "petty trick" by Taiwan, saying it will not have any impact on Washington's "One-China policy".
China's foreign ministry lodged a complaint with the US, with official Xinhua news agency reporting Beijing had urged Washington to "cautiously, properly handle the Taiwan issue to avoid unnecessary disturbance to Sino-US relations".
China considers Taiwan as its territory and most countries, including the US, diplomatically acknowledge the island nation as part of "one China". There have been no known contacts between a US president, or a president-elect, and a leader of Taiwan since president Jimmy Carter switched diplomatic recognition from Taiwan to China in 1979.
In a readout of the call with President Tsai, the Trump transition team said the two leaders "noted the close economic, political, and security ties exists between Taiwan and the United States". Trump also congratulated Tsai on her election earlier in the year.
The call was initiated by Tsai to congratulate Trump. After Friday's telephone conversation, Trump tweeted: "The President of Taiwan called today to wish me congratulations on winning the Presidency. Thank you!"
An hour later, as the call was criticised, he added: "Interesting how the US sells Taiwan billions of dollars of military equipment but I should not accept a congratulatory call."
The US continues to seal big defence deals with Taiwan despite having no diplomatic relations with it — the Obama administration approved a $1.83 billion defence agreement in 2015 despite protests from Beijing.
Chinese foreign minister Wang Yi described the call as a trick by Taiwan.
"The phone call was 'a trick of the Taiwanese side' and won't change the international consensus that there is only one China," Wang was quoted as saying during an interview after a symposium on international development and China's diplomacy in 2016.
"The One China principle is the cornerstone of Sino-US relations and we don't want to see the political principle be disrupted or damaged," said Wang.
"Since 1979, Washington has upheld the One China policy, which lays the foundation for the two sides' efforts to develop relations in a full-fledged way and make bilateral trade the largest in the world. The Democratic Progressive Party (DPP) hopes the US changes its stance on the One China policy, but this is unimaginable," the nationalistic tabloid, Global Times, said in a report.
It added: "The One China policy is a widely acknowledged principle in international relations and one of the fundamental rules that shape the contemporary international order. There is no motive in the US or the world that can break the principle, and no power to ensure that adopting a different policy can bring gains."
But was this a deliberate move?
Experts and observers cautioned against dismissing Trump's call with Tsai as a mistake or a blunder.
Many of his close advisers have long believed that the US has been pandering to China by not establishing contacts with Taiwan.
Trump's phone calls with foreign leaders — Prime Minister Narendra Modi was among the first, speaking to him on November 9 — have come under increased scrutiny as he has conducted them without the advise of the state department.
Asked about a call with the Philippines president also on Friday, state department spokesman John Kirby told reporters, "What I can tell you is we stand by to assist and facilitate and support communication that the transition team is having with foreign leaders. I don't have any specific – I don't know of any specific support that was provided for that call."
Trump's calls, a routine matter of protocol for incoming presidents, began to get attention when it was reported he spoke with UK Prime Minister Teresa May, a close US ally, much after many other world leaders.
His call with Pakistan Prime Minister Nawaz Sharif made more headlines around the world than any of the others. He was effusive in his praise of the Pakistanis. According to a transcript released by Islamabad, Trump called Sharif a "terrific guy", and Pakistan an "amazing" country.
Close Story