India's robot 'Mitra' could be symbol of AI cooperation with China
Chinese and Indian discussed the merger of China's hardware proficiency with India's efficiency in software at the first India-China Dalian Internet of Things (IoT) Conference.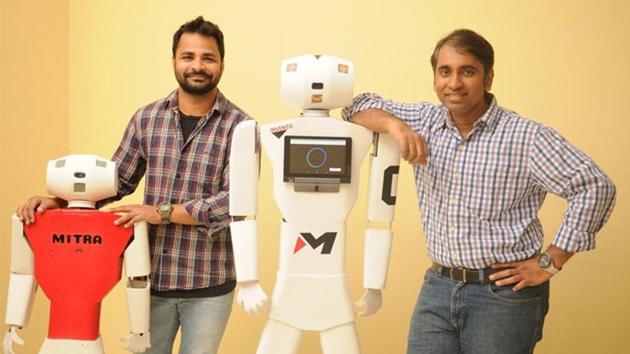 Updated on Sep 20, 2017 04:14 PM IST
Hindustan Times, Dalian | By Sutirtho Patranobis
, Dalian
Mitra, a robot developed by Bengaluru-based Invento Robotics and named after the Vedic god of friendship, could well be the poster child for cooperation in artificial intelligence (AI) between India and China.
At the headquarters of Canara Bank in Bengaluru, Mitra's first prototype - five feet and two inches tall and weighing in at 30kg - has been working hard despite its heavy bulk for a robot, acting as a receptionist and giving tours of the bank's "experience zone" to customers.
"The computer-aided designing has been done in India, its plastic mould is being made in a factory in Dongguan and the printed circuit boards and motor controls are being manufactured in Shenzhen (both cities in south China)," Balaji Viswanathan, one of the founders of Invento Robotics, told Hindustan Times on Wednesday.
The company was launched last year by Viswanathan, Bharath Kumar and Mahalaksmi Radhakrishnan.
The robot deployed at Canara Bank four-and-a-half months ago is one of the first prototypes, Viswanathan said. Mitra is designed to be an "indoor autonomous robot", or a robot that can be deployed in locations such as offices, hospitals and even multiplex cinemas. It is capable of speech and face recognition and interactive gestures.
What are the advantages of sourcing equipment from China?
"The quality of assemblage is good and so is the speed of delivery (of products) in China ," said Viswanathan, who is in the northeastern city of Dalian, considered one of the country's leading IT centres, to attend the first India-China Dalian Internet of Things (IoT) Conference.
The meet was organised as a gateway for Chinese companies to find complementing Indian expertise – use China's hardware proficiency with India's efficiency in software.
It's an example that companies from both countries could follow in future, Chinese and Indian businesspersons attending the conference said.
The National Association of Software and Services Companies (NASSCOM), India's top trade body for IT-BPM, and the Dalian municipal government jointly organised the conference.
"It is about combining the two excellences," Sudhanshu Pandey, joint secretary from the commerce ministry, said about the conference.
"India leads the world in software with a great foundation of IT and BPO services...We believe the conference co-organised by the two sides, serving as a platform for upgrading the industries of Dalian, will drive the integration of the advanced IT industry of India and the strong manufacturing industry of Dalian," Dalian mayor Xiao Shengfeng told the Indian delegation.
Key industry leading companies from India such as Wipro, Cognizant, Infosys and Genpact interacted with their China counterparts at the meet.
Close Story