Jailed former Bangladeshi PM Khaleda Zia barred from contesting polls
Updated on Nov 27, 2018 08:11 PM IST
The 11th Bangladesh general election is scheduled to take place on December 30.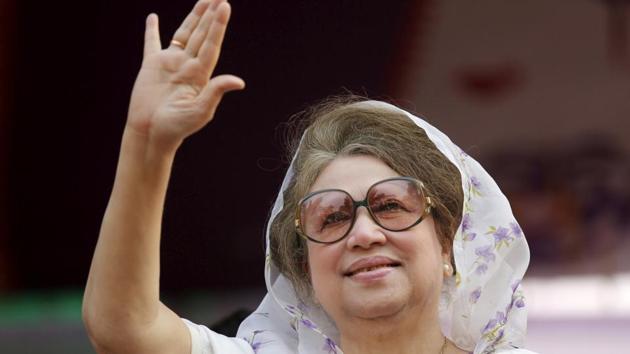 Dhaka |
Press Trust of India
In a major setback to jailed former Bangladesh prime minister Khaleda Zia, a top court Tuesday ruled that a person jailed for more than two years cannot contest polls, effectively ruining her chance to participate in the December 30 polls.
Attorney General Mahbubey Alam said the Bangladesh Nationalist Party (BNP) chairperson, who is convicted in two graft cases, cannot contest the upcoming 11th general election next month. "She is disqualified from taking part in the upcoming elections," Alam told a press conference, hours after the High Court issued a rule saying persons jailed for more than two years even if their appeals are pending with the courts cannot contest the polls.
The 73-year-old ex-premier is currently serving jail terms in two graft cases involving charities named after her slain husband Ziaur Rahman. She has been in custody since February 8, when Dhaka Special Court convicted her in the Zia Orphanage Trust graft case and sentenced her to five years of imprisonment for embezzling 21 million Bangladeshi Taka ($ 252,504) in foreign donations meant for the Trust. On October 30, the High Court doubled her jail term to 10 years.
On October 29, a trial court convicted her in the Zia Charitable Trust graft case and sentenced her to seven years in prison and imposed a fine of Tk 1 million ($ 12,024).
The High Court order came as the BNP, which boycotted the 2014 elections under Prime Minister Sheikh Hasina-led Awami League (AL) government, was set to contest the polls in alliance with the newly formed National Unity Front (NUF) led by eminent jurist Kamal Hossain.
The chief state counsel said even if Zia was released from jail before November 28, the deadline of filing the nomination papers, the Constitution would not allow her to contest the polls and "she will have to wait for five more years after her acquittal to take part in the elections".
As per Bangladesh's Constitution, a person sentenced to imprisonment for two years or above for a criminal offence cannot take part in an election unless five years have elapsed since his/her release. The two-judge High Court bench comprising Justice Mohammad Nazrul Islam Talukder and Justice KM Hafizul Alam passed the order, rejecting separate petitions filed by five BNP leaders, including Zia's adviser Amanullah Aman, seeking a stay on their convictions and sentences in graft cases.
The Attorney General said, "If the court allows them to take part in the next general election by staying their conviction, it will go against Article 66 of the Constitution...so the court scrapped their pleas." Zia was made vice-chairperson of the BNP, the largest political opposition of the country, in March 1983 after the assassination of her husband. She became chairperson of the party on May 10, 1984, a post she is holding till now.
In her 35 years of political career, Zia went to the jail several times.
During the 2007-2008 tenure of the army-backed caretaker government, she was in jail for about a year on charges of corruption.
Personalise your news feed. Follow trending topics