Kuwaiti supermarket pulls Indian products from shelves in protest over remarks on Prophet: Report
Published on Jun 06, 2022 05:48 PM IST
The Bharatiya Janata Party, as well as the Indian Embassy spokesperson in Qatar issued a statement clarifying that the remarks made were not in line with the views of the government.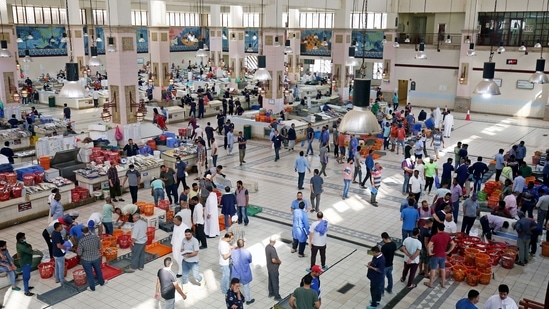 Amid an outrage in West Asian countries over alleged derogatory comments on Prophet Mohammed made by now-axed Bharatiya Janata Party (BJP) leaders, a Kuwaiti supermarket has pulled Indian products from its shelves. Kuwait, along with Qatar, Iran and Saudi Arabia, has strongly condemned the remarks that the Indian government clarified to be "views of fringe elements".
According to a report in AFP, workers at the Al-Ardiya Co-Operative Society store piled Indian tea and other products into trolleys as a mark of protest, denouncing the "Islamophobic" comments. Sacks of rice and shelves of spices and chilies were covered with plastic sheets as a company-wide boycott was called, an official said.
Printed signs at the supermarket, located just outside Kuwait City, read: "We have removed Indian products".
"We, as a Kuwaiti Muslim people, do not accept insulting the Prophet," Nasser Al-Mutairi, CEO of the store, was quoted as saying by AFP.
Saudi Arabia, Qatar, Kuwait and Iran have summoned the Indian ambassadors, while other countries in the region, including the influential Al-Azhar University in Cairo, have condemned the remarks.
The controversial comments were made by BJP spokesperson Nupur Sharma and the party's Delhi media head Naveen Jindal, both of whom have since been suspended and expelled, respectively.
"The BJP does not promote such people or philosophy…During the thousands of years of the history of India every religion has blossomed and flourished. The Bharatiya Janata Party respects all religions," the BJP said in an official statement.
Also Read | Suspended BJP leader Nupur Sharma apologises for remarks on Prophet
Sharma's remarks during a televised debate last week allegedly led to clashes in Kanpur and prompted demands for her arrest.
On Sunday, Qatar demanded that India apologise for the remarks made by then-members of the ruling party, as India's Vice-President Venkaiah Naidu visited the Gulf state in a bid to bolster trade.
"Strong action has already been taken against those who made the derogatory remarks," read an official response by the Indian Embassy spokesperson in Qatar.
Al-Azhar University, one of Islam's most important institutions called the comments "the real terrorism" that "could plunge the entire world into deadly crisis and wars".
Meanwhile, Bahrain welcomed the BJP's decision to suspend Sharma over "provocation to Muslims' feelings" and "incitement to religious hatred".
West Asian countries have very close ties with India and are a major destination for India's overseas workers, home to more than 8 millions of expatriates, Indian foreign ministry figures show.