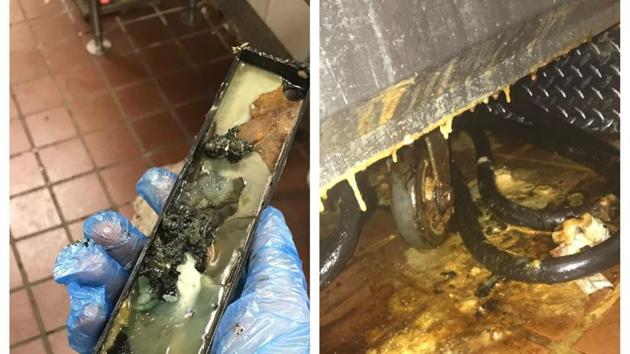 US McDonald's staff shares gross photos of ice cream machine, gets fired
The Twitter user, who goes by the handle @phuckyounick, shared a number of behind-the-scene pictures from the food joint's kitchen
UPDATED ON JUL 27, 2017 01:42 PM IST
A US man, who claimed he worked with McDonald, took to Twitter to share some photos of a gross, slimy substance that he said was found inside the American fast food restaurant chain's ice cream machine.
The Twitter user, who goes by the handle @phuckyounick, shared a number of behind-the-scene pictures, even questioning whether the frozen food was "real meat or fish".
"This came out of McDonald's ice cream machine in case y'all were wondering..." he wrote as he posted the snaps on Twitter.
While some doubted the truth behind the photos, others blamed the man for not cleaning the machine himself.
One commented, "Wrong tray. Cones don't go there". Another wrote, " ….. the ice cream its only like that because y'all the employees aren't cleaning the machine daily like your suppose to be."
Some suggested that the green mass could be from the grease trap.
The man shared some more photos from different angles to prove that the tray "was not a grease trap". And to those who slammed him for shirking his responsibility, he defended himself by saying "only managers cleaned the ice cream and drunk machines at McDonald's."
However, there were others who believed his claims.
While the authenticity of the tweets is not yet clear, the man claimed to have lost his job because of his revelations. He also admitted he was planning to leave the job anyway.
"I strategically planned this because I start working at my new job Friday. I planned on losing my job," he said.
His tweet has received more than 13,600 retweets and 15,800 likes since he posted it on July 14.
Do you believe this man's allegations? Tell us in the comments below.
Close