Pakistan puts Lashkar-e-Taiba founder Hafiz Saeed under house arrest
Updated on Jan 31, 2017 08:36 AM IST
Pakistani authorities on Monday issued orders for Lashkar-e-Taiba founder Hafiz Saeed to be placed under house arrest.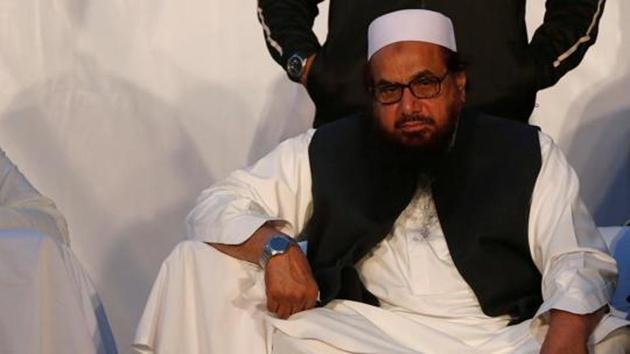 Pakistani authorities on Monday issued orders for Lashkar-e-Taiba founder Hafiz Saeed to be placed in "preventive detention", sources in Islamabad said hours after reports of fresh US pressure for action against the man accused of masterminding the Mumbai attacks.
Details regarding the order were not immediately available. A report on the website of The News daily said Saeed had been put under house arrest at Jamia Masjid Al Qadsia at Chowburji in Lahore, where the Jamaat-ud-Dawah has its headquarters.
The sources also said action had been taken against four other operatives of the JuD, which continued to be on the Pakistani interior ministry's "watch list" and had not been banned.
JuD spokesperson Yahya Mujahid told Reuters that police arrived at the group's headquarters with orders to place Saeed under house arrest. "These steps are being taken to please India," Mujahid said.
Earlier in the day, interior minister Chaudhry Nisar Ali Khan said during an interaction with reporters in Islamabad that the government was mulling action against the JuD, which is led by Saeed, in line with sanctions imposed by the UN Security Council. He said authorities were currently assessing the situation before taking a decision.
Soon after, JuD activists held a protest at the Press Club of Islamabad to oppose any possible ban on the group.
The News daily had reported on Monday that the US had threatened Pakistan with sanctions if it did not ban the JuD, which has already been declared a front for the LeT by American authorities and the UN Security Council.
"Consultations are going on whether to declare JuD as defunct or not. However, the final decision will be taken after consultations between the civilians and military authorities," an unnamed senior official was quoted as saying.
During a meeting with Pakistani envoy Jalil Abbbas Jilani on January 11, a US assistant secretary of state raised the issue of the Asia Pacific Group on Money Laundering's latest report raising objections regarding the activities and the financing of the JuD, the report said.
The 41-member APG includes the Financial Action Task Force, United Nations Office on Drugs and Crime and the Egmont Group of Financial Intelligence Units.
Jilani informed the Foreign Office about the development, saying Pakistan had to respond to the APG and the US authorities by January 31.
This is not the first time Saeed has been placed under house arrest. Soon after the 2008 Mumbai attacks that killed 166 people, Pakistani authorities cracked down on the JuD and detained Saeed.
Within six months, he was freed on the orders of the orders of the Lahore high court. The JuD also resumed its activities after forming another front organisation, the Falah-e-Insaniyat Foundation.