N Korea's 2017 bomb test set off earthquakes, aftershocks lasted 8 months: Study
Press Trust of India, New York |
Press Trust of India
Sep 27, 2018 03:42 PM IST
The shocks, which occurred on a previously unmapped nearby fault, are a window into both the physics of nuclear explosions.
The North Korean underground nuclear bomb test last year set off a series of aftershocks over a period of eight months, a study has found.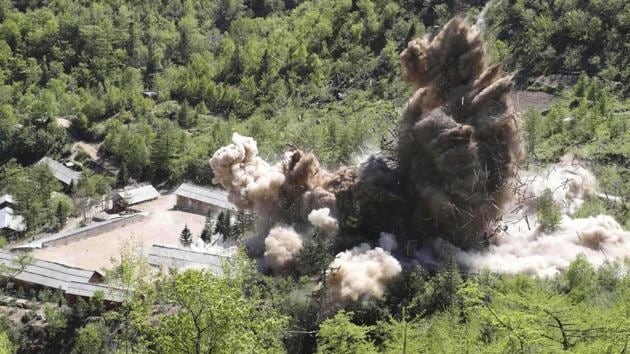 The shocks, which occurred on a previously unmapped nearby fault, are a window into both the physics of nuclear explosions, and how natural earthquakes can be triggered, according to researchers from Columbia University in the US.
The underground test -- which took place on September 3 last year -- was North Korea's sixth, and by far largest yet, yielding some 250 kilotonnes, or about 17 times the size of the bomb that destroyed Hiroshima.
Many experts believe the device was a hydrogen bomb -- if true, a significant advance from cruder atomic devices the regime previously exploded. The explosion itself produced a magnitude 6.3 earthquake.
This was followed 8.5 minutes later by a magnitude 4 quake, apparently created when an area above the test site on the country's Mt Mantap collapsed into an underground cavity occupied by the bomb.
The test and collapse were picked up by seismometers around the world and widely reported at the time.
Later, seismic stations run by China, South Korea and the US picked up 10 smaller shocks, all apparently scattered within 5 or 10 kilometers around the test site.
The first two came on September 23 last year, and the the most recent was April 22 this year. Scientists assumed the bomb had shaken up the earth, and it was taking a while to settle back down.
"It's not likely that there would be so many events in that small area over a small period of time," said the lead author of one of the studies, Won-Young Kim, a seismologist at Columbia University.
"These are probably triggered due to the explosion," said Kim.
After looking at the series of aftershock reports, researchers sifted more closely through the data and spotted three other aftershocks that had not previously been recognised, for a total of 13.
The tremors were all modest, all between magnitude 2.1 and 3.4, and almost certainly harmless. The group then used a new analysis method that looks at energy waves that are much lower frequency and slower-moving seismic than those used in conventional earthquake analyses.
These slow-moving waves allowed researchers to pinpoint the locations of the quakes with far greater precision than with conventional recordings.
Instead of the random scatter initially seen, the quake locations lined up in a neat 700-metre-long row about five kilometers northwest of the blast -- indication of a hidden fracture.