Nawaz Sharif re-elected PML-N chief after Parliament passes controversial bill
The National Assembly of Pakistan passed the controversial Election Bill 2017 that allows politicians disqualified from holding public office to head a political party.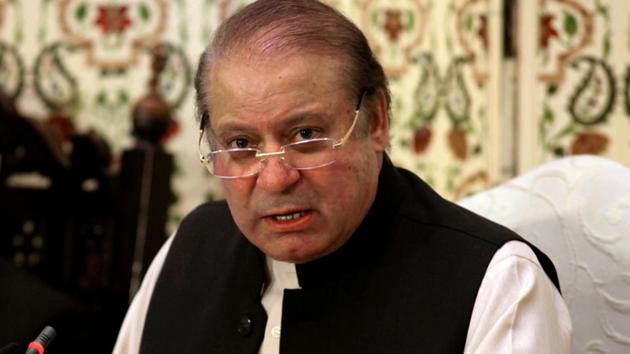 Updated on Oct 03, 2017 07:03 PM IST
Hindustan Times, Islamabad |
Imtiaz Ahmad
Ousted premier Nawaz Sharif on Tuesday called for fixing the problems ailing Pakistan's politics after he was re-elected president of the ruling PML-N party.
Sharif, who had to step down as PML-N chief after the Supreme Court disqualified him as the prime minister in the Panama Papers case on July 28, was the only candidate in the intra-party elections.
Hundreds of members of the PML-N general council, including ministers and lawmakers, attended the meeting at Islamabad's Convention Centre that elected the party chief. It was also attended by senior leaders such as Prime Minister Shahid Khaqan Abbasi and Punjab chief minister Shahbaz Sharif.
The crowd erupted in applause as soon as Sharif's name was announced as the party president, amid chants of "prime minister Nawaz Sharif". Addressing the charged gathering, he said his supporters kept re-electing him to power despite his ouster from office several time.
In an indirect attack on the judiciary, Sharif said PML-N members knew the reasons behind his disqualification. "We learned nothing from the fall of Dhaka," he said, adding Pakistan has not reflected on and fixed its problems.
"If they were not able to find anything in Panama (Papers), they should have told people the truth that we found nothing in Panama, thus we are going to take him out with an iqama (residence permit)," he said, referring to the allegation that he had received a salary from his son's Dubai-based firm which was used to remove him.
He asked the crowd to reflect on incidents that led to the creation of Bangladesh and the reasons that "led to Pakistan regressing behind all independent countries around us".
"When no justification was found for their unconstitutional steps, the Doctrine of Necessity was invented," he said, adding he wished a doctrine of necessity was also created to respect the people's mandate and democracy.
Sharif said he has proposed a national dialogue on restoring the people's mandate as "only those should govern who the people vote for". He added, "The people will decide through their vote (in the 2018 general election) who is qualified and who is unqualified."
The PML-N bulldozed the controversial Election Act 2017 through Parliament to pave the way for Sharif's return to politics. Under The Representation of The People Act of 1976, a disqualified person cannot hold office of a party.
The bill was cleared by the lower house within minutes as opposition members shouted slogans and tore up copies of the bill.
Close Story
Personalise your news feed. Follow trending topics