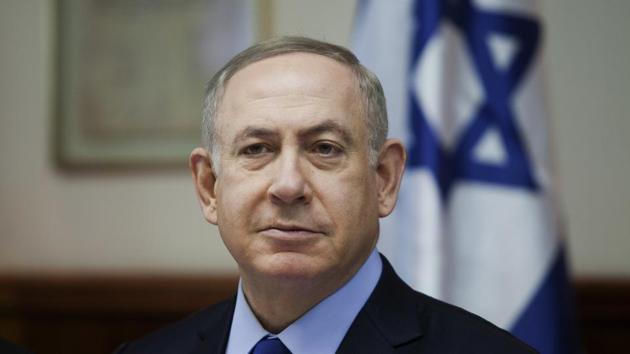 Israel PM warned New Zealand support for UN vote would be 'declaration of war'
Israeli Prime Minister Benjamin Netanyahu warned New Zealand that support for a UN Security Council resolution opposing Israeli settlements would be a "declaration of war".
UPDATED ON DEC 28, 2016 07:38 PM IST
Prime Minister Benjamin Netanyahu told New Zealand's foreign minister ahead of the UN Security Council's resolution condemning Israeli settlements that support for the move was tantamount to a "declaration of war".
"This is a scandalous decision. I'm asking that you not support it and not promote it," Netanyahu told New Zealand foreign minister Murray McCully, the Haaretz newspaper quoted unnamed Western diplomats as saying.
"If you continue to promote this resolution, from our point of view, it will be a declaration of war. It will rupture the relations, and there will be consequences. We'll recall our ambassador to Jerusalem," he reportedly said during a personal phone call to McCully on Friday.
The Western diplomats said the conversation was "harsh and very tense" and "Netanyahu let loose with sharp threats, perhaps unprecedented in relations between Israel and another Western country".
Read | US behind the 'gang-up' against Israel on UN settlement vote: Ambassador
McCully, however, was not swayed by the threats, the report added. "This resolution conforms to our policy, and we will move it forward," he reportedly told Netanyahu.
New Zealand worked with Senegal, Malaysia and Venezuela to resubmit the resolution for a vote after Egypt backed down from it on Thursday.
Netanyahu also criticised President Barack Obama at a weekly cabinet meeting after the US abstained from voting on the resolution on Friday. The US stand was a break from its traditional support for Israel.
The Security Council resolution last week called Israeli settlements in the West Bank and east Jerusalem a "flagrant violation of international law" and demanded "all settlement activities in the occupied Palestinian territory" should be immediately stopped.
Netanyahu accused the US of colluding with the Palestinians and said Israel will not abide by the resolution.
Following up on the resolution, secretary of state John Kerry is scheduled to deliver a farewell speech in Washington on Wednesday to outline his proposals for a peace settlement between Israel and the Palestinians.
The resolution was put forward by New Zealand, Senegal, Malaysia and Venezuela. After the vote, Israel recalled its envoys to New Zealand and Senegal. It also cancelled aid to Senegal.
McCully defended New Zealand's position on the resolution and said, "We have been very open about our view that the (Security Council) should be doing more to support the Middle East peace process and the position we adopted today is totally in line with our long established policy on the Palestinian question."
Read | Israel says 'reducing' ties with nations over UN vote
The UN vote was also welcomed by Palestinian leaders.
The Israeli settlements, which were accelerated under Netanyahu, are seen as one of the major impediments to a peace deal.
Close