If India takes one step forward, we will take two: Set to be Pakistan's new PM, Imran Khan talks peace
Islamabad, Hindustan Times |
Imtiaz Ahmad
Jul 27, 2018 10:40 AM IST
Though the official results are yet to be declared, Imran Khan's Pakistan Tehreek-e-Insaf looks set to form the new government in the country's only second civilian-to-civilian transfer of power.
Pakistan Tehreek-e-Insaf (PTI) party chief Imran Khan, who looks set to become the next prime minister, on Thursday pledged to match every step India takes towards Pakistan with two, in his first speech after declaring victory, "thanks to God," in a divisive general election marking only the second civilian-to-civilian transfer of power in the country.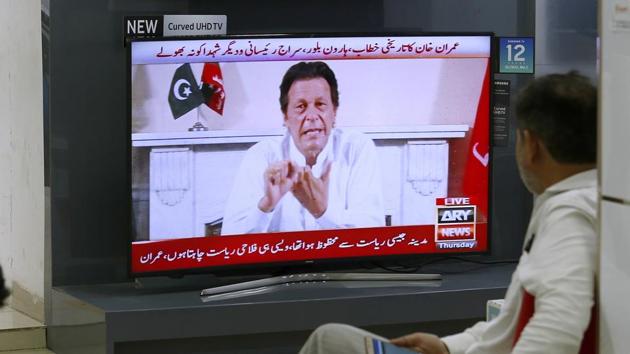 "We want to improve our relations with India, if their leadership also wants it. This blame game that whatever goes wrong in Pakistan is because of India and vice-versa brings us back to square one," 65-year-old cricketer-turned -politician Khan said late on Thursday afternoon after his party emerged as the single largest in the National Assembly according to local media.
"This is not how we will grow, and it is detrimental to the subcontinent," said Khan, who complained that he had been treated by the Indian media like he was a Bollywood villain .
"If they take one step towards us, we will take two, but at least we need a start." An official announcement of the seat tally by the election commission was still awaited, more than 24 hours after polling ended.
A tally by Dawn newspaper showed PTI leading in 120 seats, shy of the 137 (out of 272 contested seats) needed for a majority in the National Assembly.
However, only 49% of the vote had been counted at the time of going to press. Jailed former prime minister Nawaz Sharif's Pakistan Muslim League-Nawaz (PML-N) trailed with 61 seats and the Pakistan Peoples Party (PPP) led in 40, with the others split among smaller parties.
Khan should have no problems finding coalition partners from smaller parties and independents, observers said.
The election was marred by allegations of vote rigging levelled by the PML-N and the PPP, which said their monitors in many voting centres were either kicked out during counting or had not received the official notifications of the precinct's results, but instead got handwritten tallies that they could not verify.
"It is a sheer rigging. The way the people's mandate has blatantly been insulted, it is intolerable," PML-N leader Shehbaz Sharif, Nawaz Sharif's brother, told a news conference as the counting continued. Nawaz Sharif and his daughter Maryam have been jailed on corruption charges.
Although PTI workers and supporters started celebrations before the final results, no statement — or even a tweet — was issued by Khan until he made the public address.
"I am a person who arguably knows the most people in India because of my days in cricket," Khan said, singling out the Kashmir issue as the biggest hurdle in relations between the subcontinental neighbours.
"The biggest problem is Kashmir, every international organisation has said that there are human rights violations taking place in Kashmir," he said.
As of press time, India had no comment on the Pakistan election in the absence of an official declaration of the results.
On other foreign policy matters, Khan called for mutually beneficial and not one-sided relations with the US, said his administration would strengthen relations with China, noting Beijing's investment in the China-Pakistan Economic Corridor and spoke of an open border with Afghanistan. He also said he wanted stronger ties with Iran and to help Saudi Arabia resolve its "inner tensions."
The next government will need to compete for influence over foreign policy with the military, which has ruled for much of the nation's history and faced accusations of meddling in the campaign — allegations it denied. Khan has for long criticised the US for drone strikes in Pakistan, taken a hard line against India and expressed support for China's $60 billion infrastructure programme.
"Khan as prime minister is unlikely to challenge the army's authority on policies including national security, defence, and relations with India, Afghanistan, and the US," Shailesh Kumar, Asia director at Eurasia Group in New York, wrote in a report.
In his speech, Khan also pledged to build a new Pakistan, having reached the doorstep of the PM's office after 22 years of struggle.
"I want to share the kind of Pakistan I envision ─ the type of state that was established in Madina, where widows and the poor were taken care of," he explained.
"Our institutions will be stronger, everyone will be held accountable. First I will be subjected to accountability, then my ministers and so on. Today we are behind (other countries) because there is a separate system for those in power and a separate one for ordinary citizens," he said.
"We will introduce a system that has never been implemented before ─ a kind of governance system that has not been seen before in this country," he said, promising to improve the tax culture, generate jobs for the young , and spend money on human development.
"Our government will decide what we will do with PM House. I would be ashamed to live in such a large house. That house will be converted into an educational institution or something of the sort," he said.
Khan, who has denied allegations that he had the backing of Pakistan's military, said accusations of vote rigging would be investigated.
" I feel that this election has been the fairest in Pakistan's history. If any party has any doubts, we will open the results of those constituencies up for investigation."
Election Commission of Pakistan secretary Babar Yaqoob told reporters early on Thursday that counting had been delayed by technical failures in an electronic reporting system and the tallying was now being conducted manually.
"There's no conspiracy, nor any pressure in delay of the results. The delay is being caused because the result transmission system has collapsed," Yaqoob said.
In a tweet on his official account, Pakistan's military spokesman Asif Ghafoor called accusations of interference in the election "malicious propaganda."
(Agencies contributed to this report)
"Exciting news! Hindustan Times is now on WhatsApp Channels
Subscribe today by clicking the link and stay updated with the latest news!"
Click here!
Get Latest
World News
along with
Latest News
from
India
at Hindustan Times.