Pak PM's self-exiled son hugs him as he returns home after 4 years. Watch
Dec 12, 2022 10:31 AM IST
Suleman's return comes after the Islamabad HC had directed him to surrender by Tuesday while hearing his protective bail plea in money laundering cases.
Pakistan's Prime Minister Shehbaz Sharif's self-exiled son, Suleman Shehbaz, returned to Pakistan after four years on Sunday, local media reported. Suleman's return comes days after the Islamabad High Court prevented the Federal Investigation Agency (FIA) and National Accountability Bureau (NAB) from arresting him, as per the local daily Dawn. The court was hearing Suleman's petition for protective bail in money laundering cases.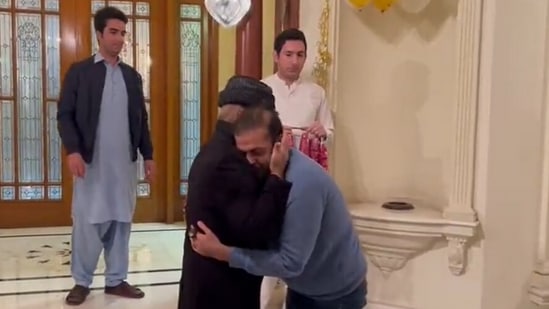 A video of Suleman Shehbaz hugging his father was also uploaded by Shehbaz Sharif's party - the Pakistan Muslim League (N) - on Twitter. "Prime Minister Shahbaz Sharif's son Salman Shahbaz returned home," the caption read. Suleman, who lived with the family in London since 2018, touched his father's feet and then Sharif hugged him and garlanded him as a welcome gesture.
The FIA had registered multiple cases against Suleman ahead of the then general election, following which he moved to London after appearing in the court a few times, as per the Dawn report.
Also Read | 'Today, world doesn't see India, Pakistan equally': S Jaishankar | Watch
Suleman also gave a statement ahead of his return saying he was "forced to leave Pakistan for the sake of his safety after fake and manipulated cases were registered against him and his family in order to facilitate a new political order," Dawn's report added. He further defended himself, calling the cases "the worst example of a political witch-hunt and political victimisation" and alleged they were "cooked up by the National Accountability Bureau under the former NAB chairman Javed Iqbal and the Assets Recovery Unit".
Also Read | Pakistani groom gifts his bride a donkey, the reason will melt your heart
The Islamabad HC had directed Suleman to surrender by Tuesday while hearing his bail plea. Suleman reportedly sought bail so he could appear before the court after arriving.
On the cases registered against him, Suleman's shares - amounting to ₹2 billion in 16 companies - were reported to be seized by the NAB in addition to nearly ₹4 million in bank accounts, land pieces, etc in 2020. He was also booked for illegal accumulation of assets, for which his brother Hamza Shehbaz and PM Sharif were named too. Dawn cited an FIA report which said their team had "detected 28 benamidar accounts of the Shehbaz family through which money laundering of Rs16.3 billion was committed from 2008-18". The report also added that the FIA examined a money trail of 17,000 credit transactions.