Pakistan PM wants UAE to mediate dialogue with PM Modi on Kashmir
Jan 17, 2023 12:38 PM IST
With Pak economy going down the drain and rampaging political crisis at hand, Pak PM Shehbaz Sharif again raised the bogey of nuclear war to get India to talk on Kashmir as a remnant of two -nation theory.
Drawing a blank to counter the rampaging political economic crisis in Pakistan, Prime Minister Shehbaz Sharif predictably tried to distract the restive domestic and indifferent global audience over fears of nuclear war with India over Kashmir.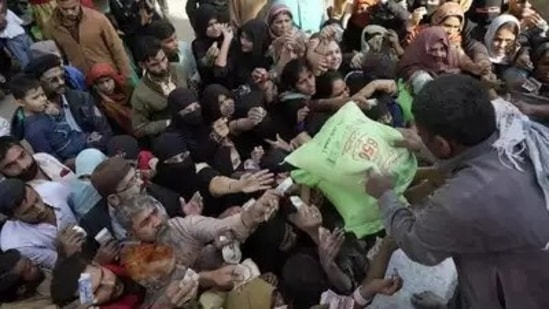 In an interview to Al Arabiya TV channel, Shehbaz Sharif sought UAE's mediation for getting Prime Minister Narendra Modi to discuss the so-called "burning" issue of Kashmir with him in what he called a sincere and honest manner. Or else, he said: "We are nuclear powers, armed to the teeth and if God forbid a war breaks out who will live to tell what happened."
Simply put, Sharif said that India should hand over Kashmir Valley to Pakistan as part of the two-nation theory or else there was a possibility of nuclear war between the two countries. However, the main issue of Pakistan instigating terrorism in Jammu and Kashmir was conveniently ignored by the Pak PM as both the military and equally culpable political leadership of the Islamic Republic have been using the terror factory in Pakistan to target India. While the US and France understand the role of Pak instigated terror in J&K, the European powers talk only about the possibility of nuclear war between India and Pakistan while ignoring the terror threat to India from Rawalpindi GHQ. Going by the past statements of PDM leaders it is quite evident that Pakistani politicians across the spectrum have a visceral hatred for India and are envious of the neighbour to the east.
While External Affairs Minister S Jaishankar has made it amply clear that dialogue with Pakistan could only take place once jihadist terror is put out of bilateral equation, Pakistan immature Foreign Minister Bilawal Zardarii and his deputy Hina Khar have been slandering Indian PM Narendra Modi in UN. The "Aman ki Aasha" ecosystem or peacenik activists in India also wants a dialogue with Pakistan so that conflict resolution factory is revived in the Indian sub-continent.
Although Pak PM has asked UAE rulers to facilitate the dialogue with India, the fact is that the word Kashmir was not even recorded in the bilateral statement released during Shehbaz Sharif's visit to Dubai seeking much-needed US dollars for daily survival. Fact is that UAE is a very close ally of India with the political leadership on both sides in constant touch with each other on religious terror and radicalization.
The Pakistan foreign exchange reserves now stand around USD four billion, which can take care of only three weeks of imports. Even though the Pakistan Rupee-USD exchange rate is being held steady by the State Bank of Pakistan which is giving mouth-to-mouth resuscitation to the state currency, the inflation rates have hit an all-time high with food scarcity all over the country except for Punjab province.
Pakistan's problems have multiplied after Tehreek-e-Taliban, Pakistan ended the ceasefire with Pakistan Army on November 28, 2022, and has started mounting attacks in Khyber Pakhtunkhwa with a spike in casualties. The internal security situation has worsened in the Islamic Republic with Baluch and Sindh insurgent groups active and targeting Pakistani security forces with the operational support of the TTP.
Pakistan PM's call for dialogue on Kashmir with India has no takers in the Modi government and this indifference could lead to Rawalpindi ratcheting up violence in the Valley through infiltration and lone-wolf attacks. However, Pakistan knows that any terror escalation with India is now counter productive as it will invite retaliation in kind from the Modi government. With the Taliban government in Afghanistan engaged with Pakistan over the festering Durand Line issue, the Pakistan Army cannot afford to open fronts on both sides of the border. Kashmir has been reduced to a talking point in Pakistan's diplomatic lexicon.