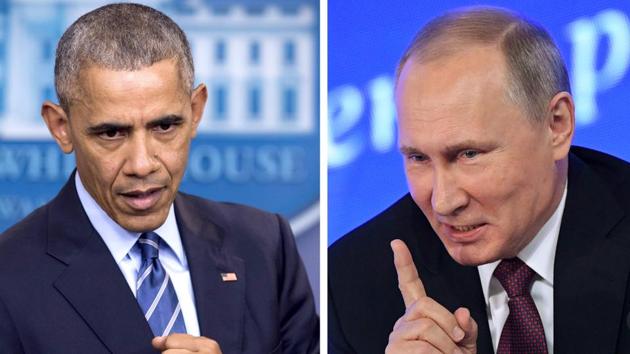 Putin won't retaliate to US actions, invests in Trump to improve ties
'We will proceed from the policy pursued by the administration of Donald Trump,' he says.
Hindustan Times, Washington | By Yashwant Raj
UPDATED ON DEC 30, 2016 10:36 PM IST
President Vladimir Putin rejected calls by his foreign ministry on Friday for retaliatory action against the US expulsion of Russian diplomats and sanctions in the hope of working with president-elect Donald Trump on "restoration" of bilateral ties.
Calling US actions "irresponsible 'kitchen' diplomacy", Putin said in Moscow: "In our future steps on the way toward the restoration of Russia-United States relations, we will proceed from the policy pursued by the administration of Donald Trump."
Trump showed a similar willingness to look beyond the hacking and retaliatory action announced by President Barack Obama on Thursday, saying in a statement, "It's time for our country to move on to bigger and better things."
The US retaliated against alleged interference by Russia in the recent elections by evicting 35 diplomats posted here and announcing sanctions against two intelligence agencies, top officials and private sector entities. American authorities also cut the Russian embassy's access to two recreational compounds it owned in Maryland and New York states, alleging they were being used for intelligence activities.
Moscow could have expelled a similar number of US diplomats in retaliation and announced similar sanctions as it has in the past. But Putin and Trump have seemed eager to work with each other to reverse a worsening relationship.
The US also released a report containing declassified details of how Russian intelligence agencies carry out hacking using commandeered computers around the world without the knowledge of their owners, and the malware they use.
"I have ordered a number of actions in response to the Russian government's aggressive harassment of US officials and cyber operations aimed at the US election," Obama said in a a statement. He indicated more actions might follow.
"All Americans should be alarmed by Russia's actions," he said, in a thinly veiled reference to Trump, who has insisted there is no evidence of Russian involvement in the hacking, which could have been carried out by anyone.
But Trump indicated he is willing to look at the intelligence pinning Russian involvement. "I will meet with leaders of the intelligence community next week in order to be updated on the facts of this situation," he said in the same statement in which he urged every one to "move on".
The sanctions and measures announced on Thursday were seen as a move by the Obama administration to force Trump into a corner on improving ties with Russia, a key foreign policy objective, reversing the downward spiral of recent years.
Lifting these sanctions could pit Trump against his own party, as many senior Republican lawmakers have openly called for a congressional investigation into Russian meddling in elections and punishing Moscow for it.
Obama had vowed to retaliate and he did on Thursday. The 35 expelled diplomats were called "intelligence operatives" but not linked to the hacking. That was for "harassment of our diplomatic personnel in Russia" in recent years.
For meddling in the elections, the US sanctioned two Russian intelligence agencies, the Main Intelligence Directorate or the GRU, and the Federal Security Service, also known as FSB, the successor to the KGB of the Soviet era.
Their respective bosses — four in all — too were sanctioned, which would prevent them from travelling to the US and subject their assets in the US, which would probably be nothing, to forfeiture.
The US also named three private sector entities for helping the intelligence agencies carry out the hacking. Two other Russian individuals were designated for "misappropriation of funds and personal identifying information".
US authorities released a joint analysis report by the department of homeland security and the FBI containing previously classified information known only to intelligence agencies and the cybersecurity community in the private sector.
The report contains information, for instance, on how Russian hackers used computers around the world to "conduct their malicious activity in a way that makes it difficult to trace back to Russia". The report also made public details of the kind of tools — malware — Russians use, which could help network defenders and cybersecurity firms to block them, forcing Russians to come up with something new.
The report also contains general information about how Russian intelligence carries out attacks, which could help "network defenders better identify new tactics or techniques that a malicious actor might deploy or detect and disrupt an ongoing intrusion".
Close