Rohingya refugee influx has come to a virtual halt, says Bangladesh
Updated on Sep 23, 2017 02:53 PM IST
The UN said 429,000 Rohingya crossed the border since a Myanmar military crackdown in Rakhine state was launched on August 25.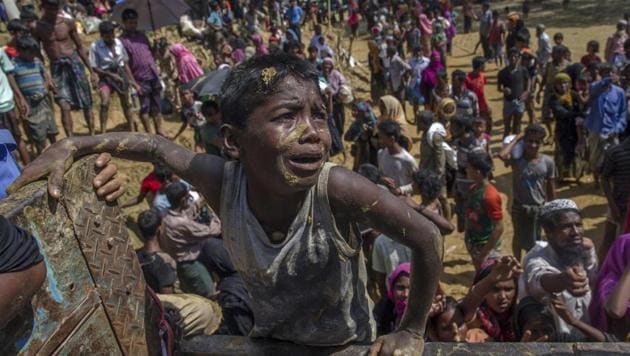 Agence France-Presse, Cox's Bazar (Bangladesh) |
Agence France-Presse
The influx of Rohingya refugees into Bangladesh has ground to a virtual halt, officials said on Saturday, almost a month after the eruption of violence in Myanmar which has seen nearly 430,000 flee in four weeks.
The Rohingya Muslims have jammed camps around the Bangladesh border city of Cox's Bazar, stretching government and UN agencies to the limit.
But Bangladesh border guards said they have seen no boats carrying Rohingya on the Naf river, which marks the Myanmar border, or in the Bay of Bengal for at least three days. Arrivals across the land frontier have almost stopped.
"Our guards have not seen any Rohingya coming in the past few days. The wave is over," Border Guard Bangladesh (BGB) commander SM Ariful Islam told AFP.
The United Nations also said "the influx has dropped" as it gave a new estimate of 429,000 Rohingya crossing the border since a Myanmar military crackdown in Rakhine state was launched on August 25.
Neither the Bangladesh military nor the UN advanced any reason for the dramatic fall in new arrivals.
UN agencies had given a daily update on the figure but said it would now only be released every Sunday.
"No Rohingya came crossing our side of the border in the past few days," said Manzurul Hasan Khan, another BGB commander whose soldiers mostly patrol the land border.
Myanmar's de facto leader Aung San Suu Kyi said this week that troops had ceased "clearance operations" targeting Rohingya militants in Myanmar's border area.
Attacks by militants on Myanmar police posts on August 25 unleashed the military crackdown which the United Nations has said could amount to "ethnic cleansing".
Rohingya crossing the border say they witnessed mass killings and rapes by troops and Buddhist militias in Myanmar. The army denies the allegations.
Rights group Amnesty International said it has assessed three new videos taken inside Rakhine state as recently as Friday showing large plumes of smoke rising from Rohingya villages.
The stateless minority has languished under years of discrimination in the mainly Buddhist country, where they are denied citizenship.
Even before the latest exodus, Bangladesh was housing some 300,000 Rohingya who had fled previous violence in Rakhine state.