China backs Pakistan's 'quest for peace with India', entry to NSG
China backed Pakistan's engagement with the Nuclear Suppliers Group of which both Islamabad and New Delhi are not members, and said it welcomed Pakistan's adherence of NSG guidelines.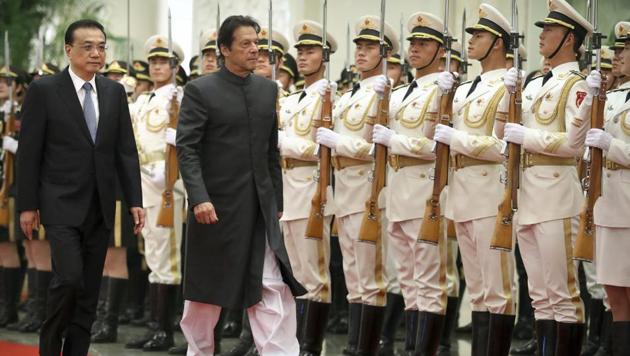 Updated on Nov 04, 2018 11:49 PM IST
Hindustan Times, Beijing | By Sutirtho Patranobis
China appreciates Pakistan's "quest for peace" and its efforts to "improve ties" with India through "dialogue, cooperation and negotiation", Beijing said on Sunday in a Sino-Pakistan joint statement that once again underscored the strategic partnership between the two countries.
The joint statement, released during the ongoing visit of Pakistan Prime Minister Imran Khan, did not specifically mention the India-Pakistan dispute over Kashmir, but spoke about "outstanding disputes" between the two countries and the importance of a stable South Asia.
It also touched upon China's backing for Pakistan to join the Nuclear Suppliers Group (NSG), a group of countries that control trade in nuclear technology. Beijing has repeatedly prevented India from joining NSG.
Khan and President Xi Jinping agreed to expand the China-Pakistan Economic Corridor (CPEC) projects under which are ongoing inside Pakistan-occupied-Kashmir (PoK). New Delhi opposes the projects on the grounds that it violates India's territorial sovereignty. India has never endorsed the Xi Jinping-led Belt and Road Initiative — the multi-billion dollar connectivity project — under which CPEC is a flagship venture.
Beijing has maintained the CPEC projects are economic ventures and not targeted against "any third country".
"Both sides (China and Pakistan) believe that a peaceful, stable, cooperative and prosperous South Asia is in the common interest of all parties. Both sides emphasised the importance of pursuit of dialogue and resolution of all outstanding disputes to promote regional cooperation and advance the goals of lasting peace, stability and shared prosperity," the statement said.
"China appreciates Pakistan's quest for peace through dialogue, cooperation, and negotiation, on the basis of mutual respect and equality, and supports Pakistan's efforts for improvement of Pakistan-India relations and for settlement of outstanding disputes between the two countries," it added. Diplomats and leaders of both countries have previously described them as "iron brothers". Praising Pakistan's "anti-nuclear proliferation record", Beijing said it supports Islamabad's engagement with the NSG and the joint statement indirectly criticised those countries supporting India in its quest to get NSG membership .
"They [China and Pakistan] noted with concern the continued pursuit of double standards in the application of non-proliferation norms and procedures and called for policies upholding rule of law and long-standing rules," the statement said. "China appreciates and supports steps taken by Pakistan for strengthening the global non-proliferation regime. In this context, China supports Pakistan's engagement with the NSG and welcomes its adherence of NSG Guidelines," it added.
On the terror front, Beijing conveyed its "support to Pakistan's commitment and efforts to counter terrorism, assured Pakistan of its support in implementing its counterterrorism strategy, and commended the tremendous sacrifices made by the Pakistani nation in fight against terrorism and for Pakistan's immense contribution to regional and international peace and security through its achievements and successes".
In another indirect reference to India, the joint statement said "…both sides underscored the need for all States to avoid politicisation of the UN Sanctions regime and the work of the Financial Action Task Force (FATF)," an inter-governmental body set up to combat money laundering and terrorist financing.
In June, India welcomed the FATF's move to place Pakistan on the grey list for failing to curb anti-terror financing despite Islamabad's diplomatic effort to avoid being put on the list.
China has also blocked India's efforts to list Pakistan-based Jaish-e-Mohammed chief Masood Azhar as a global terrorist under the UN sanctions regime.
The joint statement elaborated on the overall agreements reached between the two countries about expanding CPEC, setting up a foreign minister's strategic dialogue mechanism and strengthening cooperation between China and Pakistan in several sectors including social sectors. During the visit, Khan delivered a speech at the Party School of the Communist Party of China's Central Committee and was the chief guest at the First China International Import Expo in Shanghai.
Close Story