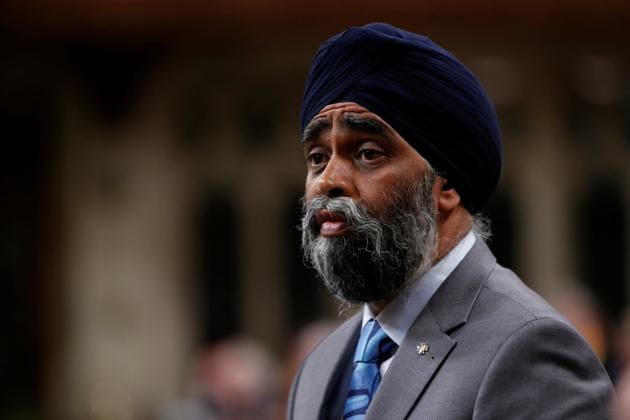 Trudeau backs defence minister Harjit Sajjan over 'exaggerating' Afghanistan role
Harjit Sajjan, in a speech in New Delhi, had claimed he was the architect of Operation Medusa that was conducted by Nato forces in Afghanistan in 2006.
UPDATED ON MAY 02, 2017 08:06 PM IST
Prime Minister Justin Trudeau defended Canada's defence minister Harjit Sajjan after he faced a barrage of attacks in Parliament and opposition leaders sought his resignation over a "false" remark he made during a speech in New Delhi last month regarding his role in an operation in Afghanistan.
As Canada's House of Commons (equivalent to the Lok Sabha) began a session on Monday after a two-week recess, Sajjan came under repeated fire for claiming to have been the "architect" of Operation Medusa, conducted by Nato forces in Afghanistan in 2006, while addressing an event organised by the Observer Research Foundation on April 18.
Sajjan told the House: "I would like to apologise for my mistake in describing my role, and retract that statement, and I'm truly sorry for it." He was forced to repeat that apology multiple times during the session.
Trudeau defended the Indo-Canadian minister, saying Sajjan had his "full confidence". The Prime Minister added, "He acknowledged his responsibility and apologised for it; that's what Canadians expect when one makes a mistake."
However, that did not calm the opposition. Conservative leader Rona Ambrose said, "People in the military have a name for what he did: It's called 'stolen valour' when someone takes credit for the brave actions of another." She said the "men and women in uniform" had lost confidence in the minister and called for his resignation.
The call was echoed by Tom Mulcair, leader of the New Democratic Party. Accusing Sajjan of having told "a whopper", he said, "That is not something you apologise for, it's something that you have to step down for."
Sajjan, speaking in New Delhi, had claimed that in his "first deployment to Kandahar in 2006, I was kind of thrown into an unforeseen situation and I became the architect of an operation called Operation Medusa, where we removed over about 1,500 Taliban fighters off the battlefield".
His misstatement turned into a major political controversy in Canada, dominating newscasts and the front pages of dailies. The original report of the incident has been followed by reports noting that Sajjan made the same claim while he was running as a Liberal Party candidate in the federal elections in 2015.
Over the weekend, Sajjan took to social media to retract his remark. In a Facebook post, he wrote, "The response to my remarks about Operation Medusa has been a good reminder of something important for me as a leader — always set a standard that honours those you serve. Another reminder is to own your mistakes. I made a mistake ‎in describing my role. I wish to retract that description and apologise for it. I am truly sorry."
Close