'Trump's new Afghan strategy an opportunity for India'
Leading experts from the United States and Britain opined that India's help was sought in the economic and development realm.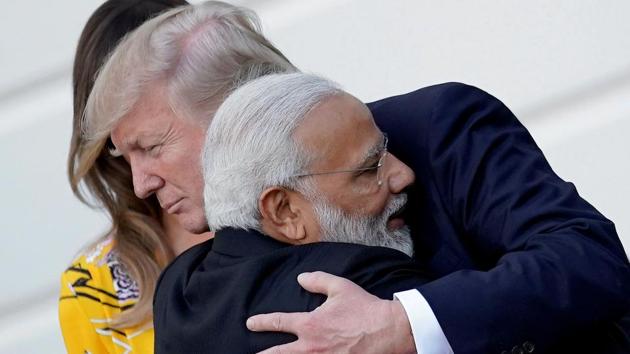 Updated on Oct 19, 2017 06:57 PM IST
US President Donald Trump's new strategy for Afghanistan and south Asia provides India an opportunity to build its 'ruthlessly pragmatic' neighbourhood policy, experts opined at a seminar in London on Wednesday.
Leading experts from the United States and Britain at the seminar on 'The new US strategy on Afghanistan and South Asia: Challenges and Prospects' at the influential International Institute for Strategic Studies (IISS) dwelt at length on the new contours of the strategy and sought to allay some misconceptions about it in Pakistan.
Participants included former US officials now at the Washington-based National Defence University's Near East Asia Center for Strategic Studies: Roger Kansas, John Wood and Jack Gill, as well as IISS experts Rahul Roy-Chaudhury and Antoine Levesques.
Wood said the new strategy, announced on August 21, had been 'over-interpreted' in certain quarters, and highlighted that Trump did not call upon India to provide military assistance in Afghanistan but sought help in the economic and development realm.
On the criticism in Pakistan, he said the strategy outlined had several elements that Islamabad has been seeking for several years, such as long-term US presence in Afghanistan, need for political settlement and increased pressure on the Taliban in Afghanistan.
According to Roy-Chaudhury, the strategy was an opportunity for India, and there has already been a flurry of Indian diplomatic activity following the new US strategy, as indicated by recent meetings between Indian, US and Afghan functionaries, and India's national security advisor Ajit Doval flying to Kabul for meetings with his counterpart and Afghan President Ashraf Ghani.
"No previous US president has talked as tough on Pakistan as Trump has," Roy-Chaudhury said, adding, "And, for the first time, a US president has publicly invited India to play a larger role in Afghanistan's economic development, thereby 'legitimising' India's influence in the country."
"But, at the same time, New Delhi also remains wary, for two reasons: First, Trump has expressed concern that tense relations between India and Pakistan — two nuclear-armed regional powers — could spiral into conflict.
"India has long opposed the view, which Indian officials regard as implicit in Trump's position, that India's conventional military superiority makes Pakistan's nuclear doctrine of 'first use' against Indian forces legitimate and serves to internationalise their bilateral dispute over Kashmir.
"Second, New Delhi is also bewildered and troubled by Trump's perceived threat of trade repercussions, should India not deliver sufficient economic aid for Afghanistan. The apparent additional pressure on India to meet US expectations seems gratuitous," Roy-Chaudhury said.
According to Wood, the contours of the US's new Afghanistan strategy is developing, but US officials recently described it as 'R4+S', which meant: "regionalise, re-align, reinforce, reconcile plus sustain".
Gill, who has a background of working in the area of India-Pakistan relations, said the tough language towards Pakistan in Trump's announcement reflected Washington's frustrations, but it was not new. At the same time, it did not blame Pakistan for Afghanistan's woes.
"It (Trump's announcement) is not anti-Pakistan. There is a consistent desire for Pakistan to succeed, to not to be a threat to itself and neighbours. Pakistan will be the principal beneficiary of a stable Afghanistan," Gill noted.
Speakers noted that Trump's announcement aimed to provide a much-needed wider regional approach to Afghanistan. The strategy explicitly identifies Pakistan and India as key players in relation to Afghanistan, but is seen to ignore or minimise other influential non-South Asian regional players, most notably China.
Close Story
Personalise your news feed. Follow trending topics