Trump's pic with glowing orb enchants the internet: 18 of the funniest tweets
Updated on May 22, 2017 11:05 PM IST
People across social media drew comparisons between Donald Trump and Lord of the Rings villain Saruman, as well as with supervillains in the DC Comics and Marvel Universe.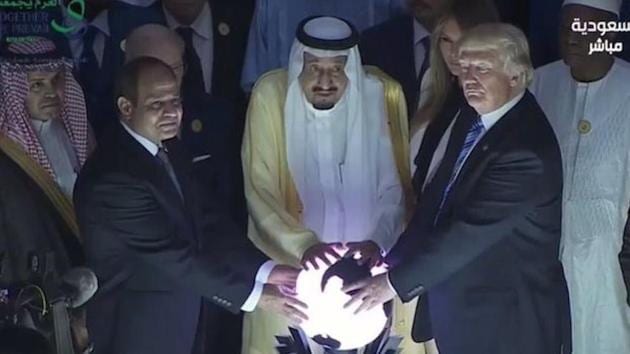 A picture of US President Donald Trump and other Middle East leaders with their hands on a glowing orb has exploded across the internet.
The photograph, which struck many as sinister and seemed to have come straight out of iconic horror scenes in fantasy and sci-fi movies, made the US president once again the butt of jokes just when he seemed to have gotten away from the scandals back home.
The orb that Trump, Saudi Arabia's King Salman, and Egyptian President Abdel Fattah al-Sissi are holding in the picture was to launch the Global Centre for Combating Extremist Ideology in Riyadh, meant to monitor and curb extremist activity online. And the leaders' move to place their hands on the orb was meant to be a gesture of solidarity.
It's not their fault that it came off a little... evil dictator-ish.
But tell that to the internet, which couldn't stop drawing comparisons between Trump and Lord of The Rings villain Saruman, who uses one of nine glowing orbs known as the Palantiri to communicate with Dark Lord Sauron.
Graphic novel fans weren't exactly starved of comparisons either, many pointing out how much the picture made Trump look like Hydra, the villainous organisation bent on world domination of the Marvel universe, and some were reminded of DC Comics' group of supervillains The legion of Doom.
Other iconic pop culture moments that jumped into people's minds came from science fiction series Star Wars...
Musical fantasy The Wizard of Oz...
And even classic live-action/ animated sports film Space Jam.
The Church of Satan took the opportunity to educate people about Satanic rituals (don't say you didn't learn anything from Trump).
Some saw a real-world hand behind all this.
And some wanted everyone to just give him a break...
But no matter what it reminded them of, Twitterati were unanimous in their conclusion that something evil was definitely going on.
Not even Breitbart News, once run by trusted Trump aide Steve Bannon, and usually on the side of the US president, could resist joining in on the fun.
If there's a lesson to be learnt in all of this, it's that no good can ever come of touching scary glowing orbs. You'll either become evil, or be mercilessly eviscerated by the internet.
You pick which one's worse.