Trump sends merit-based immigration plan to Congress, move could hurt Indian diaspora
Hindustan Times, Washington |
Yashwant Raj
Oct 09, 2017 04:56 PM IST
The new merit-based immigration system proposes eliminating family-based Green Cards for parents and other relatives such as siblings.
The Trump administration on Sunday sent to the Congress a set of immigration proposals, including eliminating Green Cards for extended families, other than minor children and spouses, that has long been a key pillar of legal immigration from India.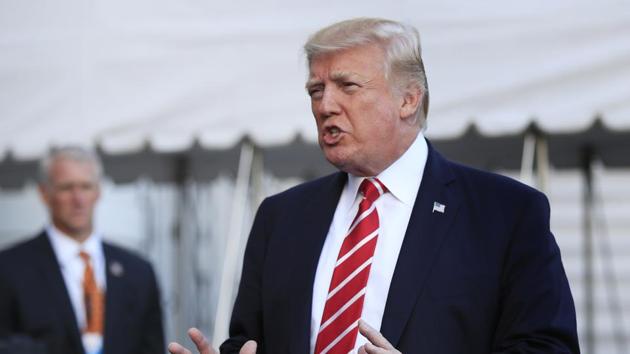 Under the new merit-based immigration system, president Donald Trump has proposed eliminating family-based Green Cards for parents and other relatives such as siblings, a major avenue of expansion for the Indian diaspora, to be replaced by those with more skills and ability to fend for themselves financially.
Stay tuned with breaking news on HT Channel on Facebook.
Join Now
The new proposals, which also included southern border walls, tougher asylum rules, a crackdown on minors brought illegally from Central America, were in the nature of conditions set by the administration in return for legalizing nearly 700,000 undocumented immigrants called Dreamers.
Nearly 8000 of them came from India. They are facing deportation, along with all the others, starting March, if the Congress fails to pass a legislation legalising their stay, which Trump will sign into law if his proposals, meant as conditions, were accepted and included.
There was no reference to the H-1B visas used by American companies to hire highly-skilled professional from abroad but some proposals were intended to prevent "replacement of US citizen workers by non-immigrant workers (such as those on H-1B) or the preferential hiring of such foreign workers".
Read more: 15 states, including Washington, sue Trump on rollback of immigrant protections
Trump had ordered a review of H-1B rules and regulations to prevent job losses to foreigners and a crackdown on visa fraud and abuse earlier this year in a move that was keenly watched and followed in India. Indian IT workers and companies operating in the United States are among major recipients of the H-1Bs.
But it wasn't immediately clear if the Sunday announcements, covering most of Trump's red-flag immigration issues, were intended to cover H-1B review also.
In a letter to Congressional leaders, Trump said these reforms "must be included as part of any legislation addressing the status" of those protected from deportation by an Obama-era regulation called Deferred Action for Childhood Arrivals (DACA).
"Without these reforms, illegal immigration and chain migration, which severely and unfairly burden American workers and taxpayers, will continue without end," he added.
Democrats, who were under the impression they had reached a deal with the president on DACA, denounced the new proposals saying the administration "can't be serious about compromise or helping the Dreamers if they begin with a list that is anathema to the Dreamers, to the immigrant community and to the vast majority of Americans".
The proposals seek to tighten asylum laws to detain applicants pending clearance — as opposed to being set free — cut federal funding to "sanctuary cities" that refuse to cooperate in deportation of illegal immigrants apprehended for unrelated crimes, and bill on a wall on the southern border with Mexico, a key poll promise of the president.
The proposals also included doing away with the 50,000 "diversity visas" that the US can grant every year through a lottery to applicants from countries outside the list of usual suspects, which do not send as many immigrants to America.
"The 'diversity visa' lottery is susceptible to fraud and is costly and time intensive for the State Department to implement," said the White House.