Nearly 8,000 Indians in US face deportation as Trump admin rescinds DACA
Updated on Sep 06, 2017 12:41 AM IST
Trump's attorney general Jeff Sessions argued the amnesty put in place by former president Barack Obama was unconstitutional.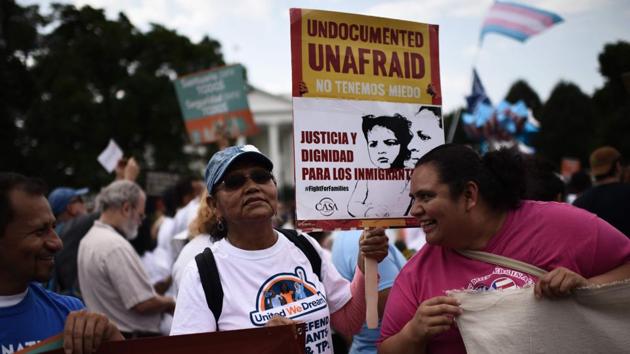 Hindustan Times, Washington |
Yashwant Raj
Close to 8,000 Indian Americans are among an estimated 800,000 people facing deportation after the Trump administration announced on Tuesday it was rescinding an Obama-era regulation that temporarily protected undocumented immigrants brought to the US as children.
"I am here today to announce that the programme known as DACA that was effectuated under the Obama Administration is being rescinded," said attorney general Jeff Sessions, referring to the Deferred Action for Childhood Arrivals programme.
Through DACA, he said, the Obama administration "deliberately sought to achieve what the legislative branch specifically refused to authorise on multiple occasions. Such an open-ended circumvention of immigration laws was an unconstitutional exercise of authority by the executive Branch."
President Donald Trump, who had seemed conflicted on the issue and had said he would deal with it "with heart," did not wait for the announcement and signalled the decision in a tweet earlier in the day, asking Congress to enact a law to allow dreamers to stay:
"Congress, get ready to do your job - DACA!," he wrote.
The White House said in a statement Congress has six months — until March 5, 2018, when the programme ends — "the opportunity to consider appropriate legislative solutions.
An estimated 787,000 people had been granted protection from deportation under DACA, a regulation ordered by President Barack Obama in 2012.
They are mostly from Mexico, El Salvador, Guatemala, Honduras and Peru. But 7,881 came from India, according to the latest data published by the regulating agency, the US Customs and Immigration Services.
Also, an additional 14,000 undocumented immigrants from India were among the 1.9 million people eligible for DACA, according to the Migration Policy Institute, which tracks and studies immigration in the US. India has also emerged as a top country of origin for legal immigrants.
The Department of Homeland Security said in a separate announcement it would no longer accept new applications under DACA, which has provided two-year renewable work permits to Dreamers.
Those with work permits will continue to work till the expire of the documents. Those whose permits expire by March 5, 2018, will be permitted to apply for two-year renewals. Such individuals must apply for renewal before October 5.
Former DACA recipients whose work permits expire will be considered to be in the United States without permission and are eligible for removal, but they will be a low priority for immigration enforcement, the administration officials said.
Tuesday's announcement is likely to face judicial challenge, with two Democratic-ruled states having already declared their intention to sue Trump.
"We should not and cannot sit on the sidelines and watch the lives of these young people ruined," New York mayor Mario Cuomo said on Monday.
DACA is an emotive issue involving immigrants who were brought illegally by their parents — they did not come on their own — as children and who grew up in the United States knowing no other country or culture; they have probably never been to their countries of origin.
But it was also a political issue tied to the larger question of illegal immigrants. A large number of Republicans — including Trump's base and officials such as Sessions and White House policy adviser Stephen Miller — are opposed to legalisation their status, calling it amnesty.
Eleven Republican-ruled states, led by Texas, had jointly threatened to challenge the regulation in court, and had in June posted a deadline of September 5 for the federal justice department to phase it out.
However, some Republicans including House speaker Paul Ryan favoured retaining some elements of DACA, and Trump's own daughter Ivanka Trump and son-in-law Jared Kushner — both advisers to the president — had supported the Obama-era regulation and pushed the president to stay with it.
So did leading Silicon Valley CEOs, who wrote to Trump jointly last week, saying, "Dreamers are vital to the future of our companies and our economy."
"With them, we grow and create jobs. They are part of why we will continue to have a global competitive advantage," the executives wrote.
(With Reuters inputs)