'We did great with the Hindus': Trump thanks Indian-Americans for election win
Updated on Dec 17, 2016 10:08 PM IST
President-elect Donald Trump has thanked Hindu-Americans for their support in his election, saying he did "great with Hindus".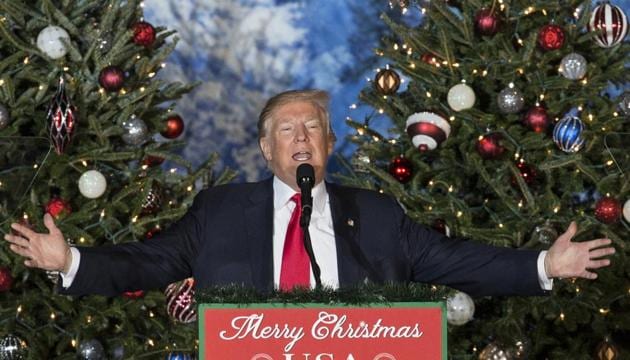 President-elect Donald Trump on Friday thanked Hindu-Americans for their support in his election, saying he did "great with Hindus", a community he had earlier said he loved and wooed at an election rally in New Jersey.
He meant to thank the Indian-American community and started by saying, "We have a lot of people here tonight from the (sic) India." He then narrowed down to "the Hindus. We did great with the Hindus."
Trump has been traveling to battlegrounds states that he won to thank voters and supporters, and was in Florida, a key state that he won comfortably.
He started by citing African Americans and Hispanics for their support and then Indian-Americans, before he segued to "Hindus".
Looking for them in the audience, he said, "Where are they? We have a big group. There they are. I want to thank you. You folks were amazing. They were amazing and voted and they were fantastic."
Read| Trump says will investigate visa abuses; Indian workers may face tough scrutiny
In October, Trump became the first presidential nominee of a major US party to reach out to Indian-Americans, pitching himself to them directly at a rally in Edison, New Jersey.
He professed his love for Hindus there, saying, "I love Hindu (in the singular)" and that under his administration, India and the US will be "best friends".
Trump spoke glowingly of Prime Minister Narendra Modi, calling him a "great man", and used an election slogan inspired by one used by the Indian leader in his own campaign: "Abki bar Trump sarkar."
The Trump family – son Eric Trump and his wife Lara Trump – then visited several Hindu temples over Diwali in Virginia and Florida.
The Trump campaign also released an advertisement in which he was seen saying "Aab Ki Baar Trump Sarkar".
Republican Hindu Coalition chairman Shalabh Salli Kumar said all this had an impact on the voting pattern of Indian-Americans, who traditionally have been strong Democratic supporters.
Read| Trump picks Indian-American consultant, Obamacare critic to overhaul healthcare
Personalise your news feed. Follow trending topics