'Wrong and cruel': Trump slammed by Obama, critics for scrapping DACA
Updated on Sep 06, 2017 11:16 PM IST
Trump's attorney general rescinded Deferred Action for Childhood Arrivals (DACA), an order that prevents deportation of undocumented immigrants brought to US as children.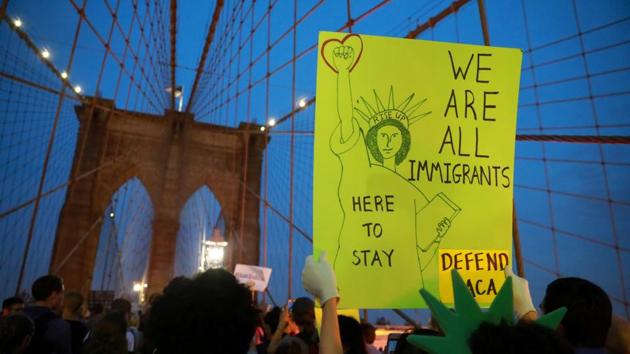 Hindustan Times, Washington |
, Washington
Yashwant Raj
US President Donald Trump claimed to have "great love" for undocumented immigrants facing deportation because of his administration rescinding their Obama-era protection, but unconvinced critics slammed the decision as "wrong" and "cruel".
Attorney general Jeff Sessions on Tuesday announced he was rescinding Deferred Action for Childhood Arrivals (DACA), an order passed by former president Barack Obama in 2012 which prevented the deportation of undocumented immigrants brought to the US as children. Sessions called the regulation "unconstitutional".
Trump claimed he was on the side of those affected by the order's repeal, seeking to transfer the fate of the immigrants into the hands of congress: "I have a love for these people and hopefully now congress will be able to help them and do it properly."
He called for a bipartisan effort "to address immigration reform in a way that puts hardworking citizens of our country first, managing to push the responsibility of dreamers — as the DACA immigrants are called — on to congress.
Later, he tweeted that he will "revisit" the issue if congress were to fail to come up with a solution.
His predecessor Obama defended the order in a rare public criticism of Trump. "To target these young people is wrong – because they have done nothing wrong. It is self-defeating – because they want to start new businesses, staff our labs, serve in our military, and otherwise contribute to the country we love," he said, adding that their facing deportation was "cruel".
Former president Bill Clinton had much the same thought, saying in a statement: "It's wrong because it's cruel to send these young people to places many of them have never lived and do not know. For them this is home. The United States is their home."
Facebook CEO Mark Zuckerberg used almost the same language: "This is a sad day for our country. The decision to end DACA is not just wrong. It is particularly cruel to offer young people the American dream, encourage them to come out of the shadows and trust our government, and then punish them for it."
An estimated 800,000 people have received DACA protection in the five years since it was instituted, including nearly 8,000 from India, according to the US customs and immigration services. An additional 14,000 were eligible, the Migration Policy Institute, which tracks immigration, said.
All of them face deportation to countries that they may have never visited, unless congress is able a way to address the situation. Lawmakers have till March 5, 2018 before the exemptions granted under by the 2012 order run out.
The Trump administration is also likely to face legal challenges for its DACA decision. Washington state attorney general Bob Ferguson, who had successfully sued the his first travel ban, has said he will be filing a challenge. And so has the Trump's home state, New York.
Personalise your news feed. Follow trending topics