Afghanistan facing undeclared war, Pak Taliban greatest threat: Ghani
Afghan President Ashraf Ghani has described the Pakistani Taliban as the "greatest threat to the region" and said his country is facing an "undeclared war" from Pakistan, which did not accept his offer of peace.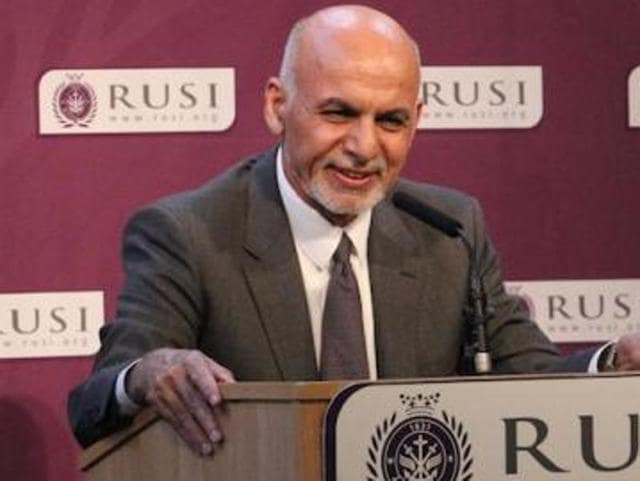 Updated on May 13, 2016 07:39 PM IST
Afghan President Ashraf Ghani has described the Pakistani Taliban as the "greatest threat to the region" and said his country is facing an "undeclared war" from Pakistan, which did not accept his offer of peace.
Delivering a well-received lecture on the theme "Fifth Wave of Political Violence" at the Royal United Services Institute on Thursday, Ghani expressed frustration at Afghanistan becoming a battleground for fighters from various countries, but mainly from Pakistan.
"Who fights in my country? Chinese, Chechens, Uzbeks, Tajiks, but the greatest one of course is a huge movement from Pakistan. Then, of course all the rejects from the Arab world are sent on to us," he said.
Ghani added, "Our fundamental issue is peace with Pakistan. There has been undeclared war against us and that I framed during my visit. I went to the (Pakistan Army's) GHQ. I invested enormous amount of political capital to make sure the road to peace was the proper road. Our extended hand was not shaken."
He asked the packed audience, "Can anyone point out a historical precedent or a political framework where people who do not belong to a nation and do not have a quarrel internally (have) such a presence?"
Ghani said, "Who are we posing a threat to? Do you know of a single Afghan who has blown himself up? Why are so many being sent to us? The TTP (Tehrik-e-Taliban Pakistan) is becoming the greatest threat to the region."
He rejected the impression that Afghanistan is becoming a safe haven for Al Qaeda but admitted the group is networking. There is also a "displacement effect", he said, noting the displacement of people caused by the Pakistan Army's operations along the Durand line, largely in the Khyber-Pakhtunkhwa province.
"TTP is a displacement phenomenon due to the operations of the Pakistani army. We have gone after the leadership of TTP multiple times. If Mullah Fazlullah has seven lives, that's not our fault," he said.
"But can the state of Pakistan point out a single operation against the Haqqanis or the Taliban leadership? Are their addresses not known? Where do they congregate, where do they meet, do they not meet openly, do they not recruit openly, do they not receive arms openly?"
Mullah Fazlullah is a top Taliban commander who fled to Afghanistan after the army launched a drive against his fighters in northwest Pakistan.
Ghani told the audience his commander of Helmand province went to the Pakistani city of Quetta and told his counterpart, who was the former director of military intelligence: "'Would you like to take a tour, so we can point you to specific locations?' He kindly refused the offer. We do not differentiate between good and bad terrorists, and consequently we face terrorism."
Setting out his analysis of the global state of political violence, Ghani said in his region, "unfortunately" states felt inclined to both sponsor "malign state actors or even use some of their own organisations behaving as malign. This is a lose-lose proposition."
He said, "Anyone who believes that terrorism could be classified as good or bad terrorism needs to rethink the fundamental assumptions. Daesh has taken all the oxygen, but what keeps me awake is Al Qaeda. Is it gone down dark and deep? Is it preparing another surprise? Which is going to be the more enduring phenomena: What is visible or the dog that did not bark?"
According to Ghani, one of the characteristics of the current – or fifth – wave of political violence is the change in networking. "Previously we used to have face-to-face or in small groups. Now the militants have become face-to-faceless or face-to-Facebook", which makes recruitment "extraordinarily effective" and replication does not depend on central authority.
Ghani went on to say: "When Afghans face battles of survival, we aggregate, congregate and we defeat and we will defeat this wave. Don't have any doubt about it. Look at our history, but the price is unbelievably high."
The President calmly responded to noisy interruptions during the event by some demonstrators who protested against the decision to route a major transmission line in the Turkmenistan-Uzbekistan-Afghanistan-Pakistan electricity project through Salang, instead of Bamyan.
Close Story