Bangladesh: fresh political violence at rally; 1 dead
Security forces and opposition activists clashed in Bangladesh's capital on Sunday, leaving at least one person dead, as thousands of police took to the streets to foil a mass rally calling on Prime Minister Sheikh Hasina to cancel upcoming elections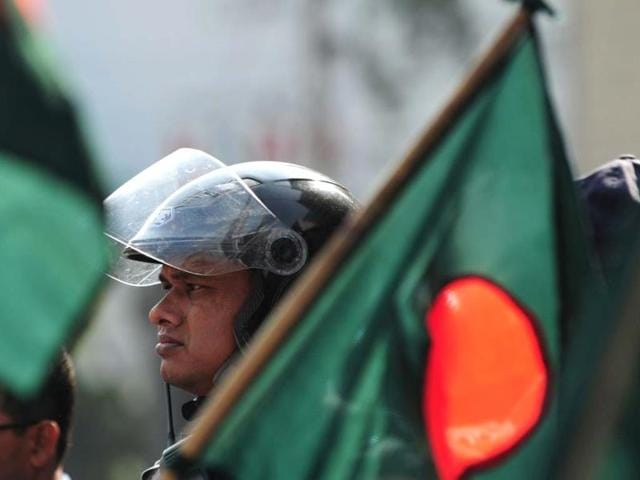 Updated on Dec 30, 2013 01:18 AM IST
Security forces and opposition activists clashed in Bangladesh's capital on Sunday, leaving at least one person dead, as thousands of police took to the streets to foil a mass rally calling on Prime Minister Sheikh Hasina to cancel upcoming elections.


Hasina's rival, former Prime Minister Khaleda Zia, was expected to address the rally later on Sunday in defiance of a government ban on large political gatherings. Reports said authorities had detained hundreds of people in a crackdown ahead of next weekend's elections, further deepening the impoverished South Asian nation's political crisis.
Security officials surrounded Zia's home in Dhaka's upscale Gulshan area, where most foreign embassies are located, and parked sand-laden trucks in an apparent effort to obstruct Zia from leaving her home. Police denied that the measures were taken to stop her from joining the rally.
Zia attempted to come out of her home, but police built a barricade that prevented her from getting to her car. TV video showed an angry Zia condemning Hasina's government, saying, "Stop this." Meanwhile, thousands of security forces, mainly police, tried to prevent the activists from rallying.
A 21-year-old student was killed in Dhaka's Malibagh area when security officials fired rubber bullets to disperse the activists, said police official Mozammel Haque. Witnesses said the violence broke out after a group of activists from the opposition Jamaat-e-Islami party began marching in the streets. Stick-wielding ruling party supporters chased stone-throwing opposition activists on the premises of the Supreme Court. Witnesses said dozens of people were injured in that violence. Public transportation in Dhaka was suspended, cutting the capital off from the rest of the country.
The opposition blamed police for preventing buses and other vehicles from traveling to the city. Traffic was thin on Dhaka's usually clogged streets, with many people staying home in fear of violence.
Local media reported that more than 650 people had been detained since Friday as part of a nationwide crackdown ahead of the January 5 elections, which the opposition is boycotting.
Close Story
Personalise your news feed. Follow trending topics