India downplayed Agni-V's capacity: Chinese experts
Updated on Apr 20, 2012 03:03 PM IST
Du Wenlong, a researcher at China's PLA Academy of Military Sciences, told the Global Times that the Agni-V "actually has the potential to reach targets 8,000 kilometers away". Missile woman Tessy helps India pass Agnipariksha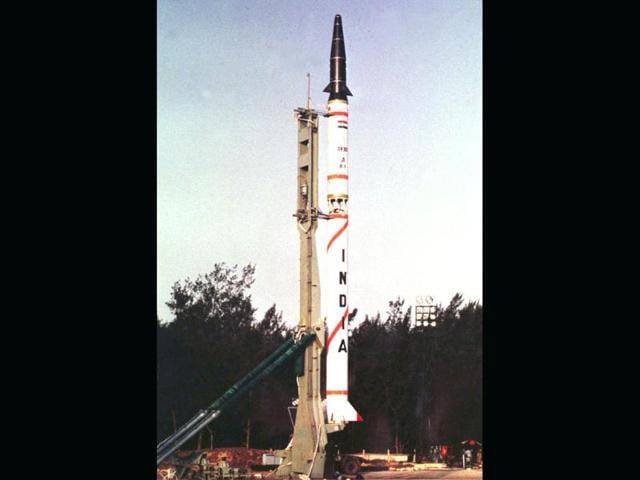 Chinese experts feel that there is more fire power to India's successful long-range nuclear-capable missile Agni-V than what New Delhi is saying. A Chinese researcher said the missile "actually has the potential to reach targets 8,000 kilometers away".
Du Wenlong, a researcher at China's PLA Academy of Military Sciences, told the Global Times that the Agni-V "actually has the potential to reach targets 8,000 kilometers away".
Du added that "the Indian government had deliberately downplayed the missile's capability in order to avoid causing concern to other countries".
India on Thursday test-fired the Agni-V missile that it said can accurately hit targets more than 5,000 km away. With this launch, India entered an exclusive club of nations that have this capability.
Zhang Zhaozhong, a professor with the People's Liberation Army National Defense University, told the Global Times that according to China's standard, an ICBM should have a range of at least 8,000 km.
"The Agni-V's range could be further enhanced to become an Inter-Continental Ballistic Missile," he said.
China calls for nuclear security
China has called on the international community to work together in promoting international nuclear non-proliferation, nuclear disarmament and nuclear security.
The statement came Thursday, a day when India successfully test-fired a long-range nuclear-capable ballistic missile.
Li Baodong, the Chinese permanent representative to the UN, who took the floor at an open meeting of the UN Security Council on nuclear non-proliferation, said: "The international community needs to enhance its coordination and cooperation in this regard and join hands to face the challenge."
"To continually promote international nuclear non-proliferation, nuclear disarmament, and nuclear security is of great significance to maintaining international peace and security," Xinhua quoted Li as saying.
"China supports the Security Council in playing its role in this regard."
While acknowledging "some positive developments" in the field of arms control and nuclear proliferation, Li also listed matters of concern.
"With the common efforts of the international community, the areas of arms control and non-proliferation have seen some positive developments," he said. "At the same time, the nuclear proliferation issue remains acute. Nuclear disarmament has a long way to go. The nuclear security situation remains grave."

"China believes to maintain international peace and stability, to realize general security in the world, we must uphold a new security concept based on mutual trust, benefit, equality, and coordination...," he said.

"We must consolidate international nuclear non-proliferation mechanisms, fully respect the rights of countries to peaceful use of nuclear energy and avoid double standards," he said.
"At the same time, we must adhere to scientific and rational concepts of nuclear security, strengthen capacity building in this regard and deepen international communication and cooperation and enhance global nuclear security levels and realize the common goal of general nuclear security."