Donald Trump calls for 'complete shutdown' on Muslims entering US
Hindustan Times |
, Washington
Yashwant Raj
Dec 08, 2015 08:40 PM IST
Republican frontrunner Donald Trump has called for a complete ban on Muslims entering the US.
Republican presidential frontrunner Donald Trump, who everyone thought couldn't shock any more, has done it again -- this time by calling for a complete ban on Muslims entering the US.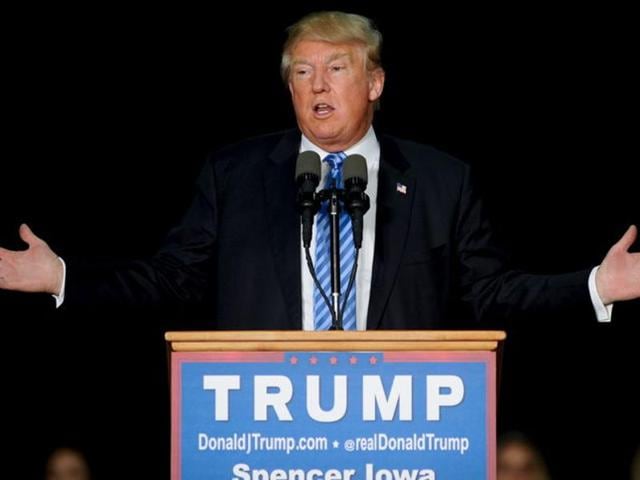 He has called "for a total and complete shutdown of Muslims entering the United States until our country's representatives can figure out what is going on", his campaign said on Monday.
The ban he proposed would cover tourists and immigrants, his campaign told reporters, and comes as a complete turnaround on an earlier position that he "loved" Muslims.
Trump doubled down on the call in a string of interviews on morning television, instead of walking it back as many thought he would. He rarely ever takes back anything he has said.
Citing questionable polls, the statement said "large segments" of Muslims feel "great hatred" for US, and they want Islamic Sharia laws that authorise murders and beheadings.
"Until we are able to determine and understand this problem and the dangerous threat it poses, our country cannot be the victims of horrendous attacks by people that believe only in jihad, and have no sense of reason or respect for human life," Trump said in a quote cited in the statement.
Watch | Trump calls for ban on Muslims in US
Trump is known for his incendiary rhetoric that has offended and gladdened people at the same time; more of the latter, his gravity-defying poll numbers seem to suggest.
But there has been a marked increase in anti-Muslim rhetoric following the Paris carnage and the killings in California by Pakistani-origin couple Syed Farook and Tashfeen Malik.
President Barack Obama warned against it in his address to the nation from the Oval Office on Sunday night, saying this cannot be "defined as a war between America and Islam".
But many on the right are doing exactly that, such as Trump, who finds political profit in stoking these fears, especially among hardcore Republican voters attracted to his message.
His anti-Muslim rants, somewhat constrained so far but breaking a new high on Monday, may have struck a chord with some conservatives who still believe Obama is Muslim.
Read: 'I love Muslims, they're great people': Donald Trump
But for most of them, it was more evidence of Trump's warped conservatism that has left most leading guardians of the ideology cringing, and dreading the next blow.
Dick Cheney, a right-wing icon who was former US president George W Bush's vice-president -- described as "iron-ass" by President George H Bush (the elder) -- was horrified.
Trump's comment, he told a conservative radio host, "goes against everything we believe in". Cheney has not yet taken sides in the race, and remains neutral.
Trump's rivals agreed: Jeb Bush called him "unhinged", Lindsey Graham called his comments "bigoted", and John Kasich called him unsuited to lead the country.
Bill Kristol, editor of The Weekly Standard -- a conservative news publication -- who has never tried to conceal his contempt for Trump, said, "Final Trump tweet: I've dismissed such conspiracy theories before...but how do we REALLY know that Trump isn't a Clinton double agent?"
Many Republicans, who are not the kind of conspiracy theorists dismissed by Kristo but are unable to explain Trump any other way because of his pandering, agree.