A slogan is no reference point for patriotism
Apr 28, 2016 01:03 AM IST
The manner in which extremists have lashed out at Muslims is not reflective of any activity in the national interest
A lot of noise has been made over the nationalism of Indian Muslims who have chosen not to chant a controversial slogan on grounds of their religious sentiments. How can they be forced to chant any slogan to prove their nationalism? The Constitution does not demand this. A few extremist leaders have reacted aggressively to Muslims' refusal to chant the slogans; one has even stated that if he could, he would have beheaded them for refusing to do so. As an Indian Muslim, this writer is tempted to ask by what right have these extremists raised questions about my nationalism and that of others. Are they legally, ethically, socially and politically permitted to indulge in a practice which seems hardly appropriate in the national interest?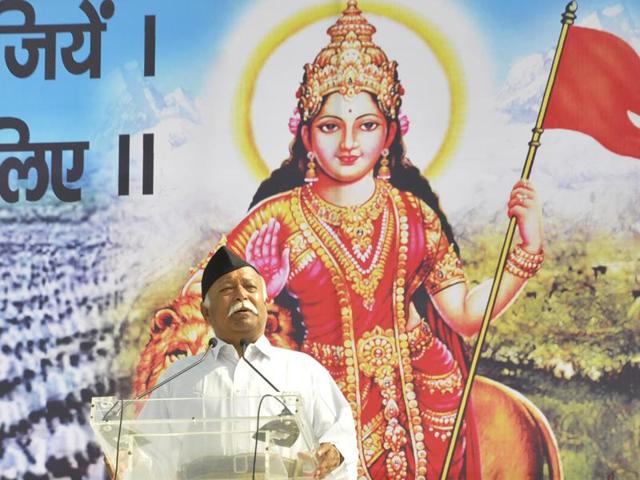 The nationalism of Indians may be questioned if and when they engage in any activity not in keeping with their duties as citizens. The failure of citizens to abide by constitutional rules may also be termed as anti-national. The controversial slogans have not been listed in the Constitution. Then on what grounds can the refusal of Indian Muslims to chant a slogan be viewed as anti-national?
READ: BJP indulging in 'gundagardi' in the name of Bharat Mata: Kejriwal
The aggressiveness with which Muslims have been blamed for an offence that they have not committed lacks legal support. The noise on this issue is an attempt to defame them, spread false news, malign their reputation and raise controversies about their national identity as well as the definition of nationalism. Indulging in this behaviour, when law and ethics do not command them to do so is equivalent to their carving out their own rules and laws, which they expect Indian Muslims to be subject to.
In this regard, should the keepers of Indian law and order remain silent about those showing little concern for rules that they are expected to follow, constitutionally? Each citizen has a duty towards the Constitution. While a lot of importance has been given to the refusal of Muslims to chant controversial slogans, little attention has been paid to questioning the authority of those making such a noise. Hardly anything has been said regarding the illegal nature of their behaviour.
READ: Beheading remark was in response to Owaisi's statement: Ramdev
The manner in which extremists have lashed out at Muslims is not reflective of any activity in the national interest. It has to a certain degree spread tension and has also thrown a bad light on the country's image. It would be pertinent to draw attention to freedom of speech and expression as permitted by the Indian Constitution. As per right to freedom, according to article 19, all citizens have the right to freedom of speech and expression. It is a fundamental right but with limitations. Article 19(2) highlights reasonable restrictions on the exercise of this right, in the interests of sovereignty and integrity of India. These are security of State, friendly relations with foreign states, public order, decency or morality, contempt of court, defamation or incitement to an offence.
READ: Hindutva distorting Hinduism: Nayantara Sahgal
The extremists have abused freedom of speech and expression by making aggressive noise against Muslims' refusal to chant the controversial slogan. By not following constitutional principles, the extremists have certainly raised questions about their own patriotism and nationalism!
Nilofar Suhrawardy is a senior journalist
The views expressed are personal