Beyond the borders: Separated by history, joined by horoscopes
Jul 09, 2018 01:10 PM IST
The triumph and tragedies of the families of several Indian and Pakistani politicians are strangely similar
I've often believed the destinies of Indian and Pakistani politicians are similarly written. You'd know what I mean if you study the triumphs and tragedies of the families of Indira Gandhi and Zulfikar Ali Bhutto (ZAB).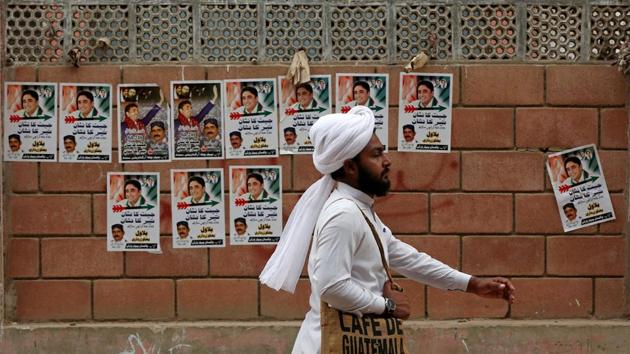 If that's distant history, take a look at fates that befell Nawaz Sharif and Lalu Yadav. Convicted of graft, the patriarchs who once ruled the universe they surveyed, have been eliminated from electoral politics; flames that gutted their careers leaping closer to their political heirs and successors.
Almost everyone in Sharif's immediate family, including his sons, Hassan and Hussain, are under a cloud. His daughter, Mariam, and her husband are co-convicts, in fact, in the case relating to certain properties in London for which they have been sentenced to varying jail terms. The matching example in Lalu's larger family could be the money laundering cases against Misa Bharti and her spouse.
The Yadav strongman's popularity hasn't waned despite convictions and incarcerations. It remains to be seen whether Sharif — who's to the Pakistani Punjab what Lalu is to Bihar— will return home to face that test. The upcoming polls might not be an honest indicator of his mass base. The process, many believe, has been rigged to marginalise his faction of the Pakistan Muslim League.
Quite telling in that context was the tweet of a Lahore-based newsperson after the court verdict: What's the point of holding elections now? Announce the PM and get done with it.
The allusion in the tweet was to Imran Khan. His and Arvind Kejriwal's early political scripts were photocopied or plagiarised. One can't say who stole from whom. Like the Delhi chief minister, the cricketer-turned-politico's Pakistan Tehreek-e-Insaf (PTI) captured popular imagination and political power in one state, Khyber Pakhtoonkhwa, on the plank of corruption-free, good governance.
That isn't all. They were celebrities before debuting in politics: one an acclaimed sportsman, the other a Magsaysay award winner.
Imran now appears within striking range of the PM's office; Sharif, his arch rival, felled by his profligate family and the collective wrath of the civil-military establishment. The deposed prime minister's detractors are aided in full measure by an overzealous head of the judiciary who brooks no constitutionally-drawn jurisdictional boundaries.
Imran doesn't like being called a Kejriwal clone as his anti-graft movement predates the Aam Aadmi Party. Yet, their whims, work styles and penchant for theatrics show them as separated at birth! However, there's a distinction. The once rebellious PTI chief looks a conformist, a veritable child of the establishment, while taking guard for polls slated in the second half of July. For his part, Kejriwal remains, in his disregard of hierarchy, the anarchist that he always was.
ZAB and Indira's great grandsons too have experiences to share. Benazir's son Bilawal is struggling to revive the Pakistan People's Party (PPP) in the face of an acute leadership deficit and the party's shrinking support base. In India, Rahul's task is cut out as much. He also has to restore the Indian National Congress's diminishing expanse.
On either side of the border, detractors of these fourth-generation politicians are using innuendoes and insinuations to dent their charisma. They paint them as dynasts devoid of political acumen.
In the free-for-all that drives sub-continental politics, there's little or no empathy for their traumatised childhoods, the tragedies they suffered in their growing years. Their rivals deride and deconstruct them on a daily basis, knowing well that they're the sheet anchors without whom their parties would splinter and sink.
The Bhutto name's identification with the party ZAB founded is as undeniable as that of the Congress with the Gandhis. A testimony to that is the stock war cry of PPP supporters locally referred to as jiyalas: "Ye baazi khoon ki baazi hai, ye baazi tum hi haro ge, har ghar se Bhutto niklega, tum kitne Bhutto maroge". (The slogan is addressed to and taunts the Pakistani deep state that 'stage managed' ZAB's hanging. It tells them that they will lose the bloody battle they have unleashed: "There will be a Bhutto coming out of every home. How many Bhuttos will you kill?")
The inspiration, as already explained, obviously is ZAB's hanging described as 'judicial murder' by his daughter, Benazir, who herself fell to an assassin in 2007. Her brothers — Shahnawaz and Murtaza — also had died in mysterious circumstances in the south of France and in Karachi respectively. The latter's wife, Ghinwa, of Lebanese-Syrian origin, is estranged from other members of the extended Bhutto family, as is the case with Sanjay Gandhi's wife Maneka. Flashback the Indian story and you'd remember that Indira and her elder son, Rajiv, were assassinated. That was after Sanjay, her original political heir, died in a mysterious plane crash.
Fate obviously duplicates horoscopes. Or is it the other way round?
vinodsharma@hindustantimes.com