Cyclone Fani: The worst is over, but picking up the pieces won't be easy
Updated on May 08, 2019 09:26 AM IST
The natural calamity is a warning for cities: Learn to be climate resilient or the consequences would be severe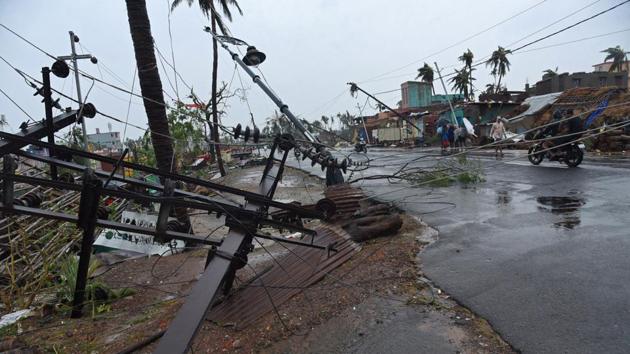 Prime Minister Narendra Modi on Monday conducted an aerial survey of Puri and Khurdha districts of Odisha to see for himself the scale of devastation caused by Cyclone Fani, which made landfall in the state on May 3. During the prime minister's visit, Chief Minister Naveen Patnaik said Odisha deserves "special category status" for being the most disaster-prone state in India. His demand is understandable. A Super Cyclone flattened the state in 1999; in 2013, Odisha was hit by Cyclone Phailin, and in 2018 by Cyclone Titli. In 2019, it was Cyclone Fani.
While the first one killed more than 10,000 people, the death toll in the next three was below 100, thanks to the state's improved disaster management skills. Besides these major disruptions, Odisha also had to deal with other climate-induced disasters such as heat waves, droughts, and floods. Such episodes are expected to increase in the future. The Fifth Intergovernmental Panel on Climate Change (2015) report predicts that India and other tropical countries will witness an increasing number of cyclones, storm surges and extreme rainfall in the future.
While the Patnaik government did well to weather Cyclone Fani — the state mobilised resources and personnel to evacuate more than a million people — and save lives, the challenges ahead of the state now will be equally gargantuan. "While restoring infrastructure will be one aspect of the challenge, rebuilding lives of poor people, especially the vulnerable category, will be a much greater one. This will need some smart and long-term thinking on the part of the government," said Amar Nayak, a disaster management expert, and ActionAid's Global Humanitarian Adviser.
In February, members of the People's Solidarity Forum, a state-level forum of people's organisations from 14 districts of Odisha, released a manifesto that focused on exactly that: Long-term planning to improve disaster management and response, mitigation, and building resilience of coastal communities. These proposals can also be considered by India's other coastal cities that don't yet have a plan to tackle such events.
One of the interesting suggestions in the manifesto is to develop a cadre of people who know how to swim, can fix electrical networks, drive speed boats, all of which are important skills in disaster situations, and then improve their skills further so that they can supplement the state's efforts during such calamities.
Second, there has to be a mapping of the most vulnerable population — single women, senior citizens, children, pregnant women, the physically challenged,
Dalits — in villages and cities to ensure that they are rescued first. Third, regular disaster risk reduction trainings must be done. Fourth, such disasters also mean loss of daily wages for poor people. It is critical to ensure that social protection programmes such as the Mahatma Gandhi National Rural Employment Guarantee Scheme are implemented well so that people can resume their normal lives sooner rather than later. Fifth, each cyclone is also an ecological disaster, and all efforts must be made to regenerate nature's own disaster managers, such as mangroves.
"Mangrove forests act as a buffer or shock absorber in time of such disasters. There is a clear indication that mangroves at Sundarbans saved Kolkata from Cyclone Aila in 2009, by absorbing a massive chunk of the cyclone's fury," Indian Forest Service officer, Parveen Kaswan, recently wrote in a blog.
Unfortunately, the people who run India's coastal cities are waging a war on these natural barriers. Take the example of Mumbai. A 2018 December report in Hindustan Times reported that mangrove destruction cases doubled in 2018, but there was not even one conviction. India's financial capital should be careful because
climate change can increase cyclonic activity in the Arabian Sea.
Sixth, while a major portion of the focus after a disaster is on rural areas, there is a need to provide for the urban poor in cities. They need safe shelter, livelihood options with skill building and social security. Badly constructed buildings can be killers as much as cyclones and earthquakes. There is an urgent need to invest not just in cyclone shelters but also in cyclone-resilient construction, as per the Model Building Bye Laws, 2016, of the Ministry of Housing and Urban Affairs.
Non-profits such as Save the Children have also raised the need to ensure psychological counselling for children to overcome such climate tragedies.
Last, but not least, all Indian cities need city-level disaster management plans. Unfortunately, as most city governments struggle to deal with other day-to-day challenges such as education, infrastructure and health, climate resilience and adaptation figure low on their list of priorities.
Cyclone Fani is a warning for cities: Learn to be climate resilient or the consequences will be severe.
Personalise your news feed. Follow trending topics