History repeating itself? Mulayam followed Lohia, Akhilesh his father
Hindustan Times, Lucknow |
Sunita Aron
Jan 03, 2017 07:58 AM IST
Mulayam has a peculiar habit of checking his watch every few minutes. Perhaps at the age of 78 years he thinks his time is running out. But those who know him say don't dare write him off as the wrestler politician is famous for "charkha daav".
"I am the proud father of a chief minister. I am happy, relaxed and confident he will do a fine job. I have told Akhilesh that his performance should be matchless in the country."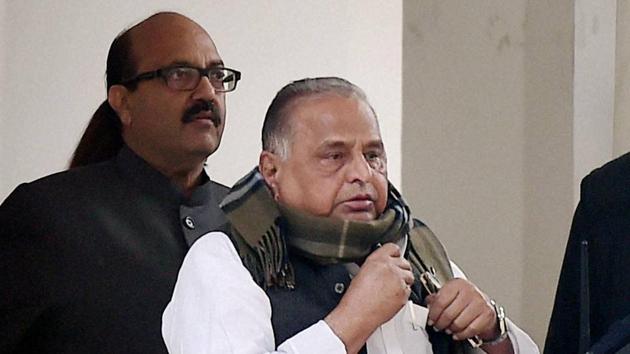 A beaming Mulayam Singh Yadav said these words in his first interview to Hindustan Times in March 2012 after he managed to convince party seniors, including younger brother Shivpal Yadav, of his decision to hand over the baton to his son.
Less than five years later, the relationship between father and son has soured to the extent of taking their political battle to the Election Commission and, in the process, splitting the Samajwadi Party ahead of the crucial assembly elections in the state.
Both Mulayam and Akhilesh are blaming extraneous influence of family and friends while emotionally insisting that "none can break the relationship of a father and son".
What could have been a smooth succession within the family, turned into a public brawl -- and now a long-drawn legal battle!
Read| Party belongs to me, people by my side: SP chief Mulayam
Political expert KS Rana, who knows the Yadav family, feels Ramgopal Yadav, Mulayam's cousin and the SP general secretary, could have followed a compromise formula --- like the one worked out by the Janata Party in 1978 to resolve the clash between Morarji Desai and Charan Singh.
While Desai continued as the party president, Charan Singh was appointed working president with authority to allot symbols.
"The national convention could have easily appointed Akhilesh as the working president or parliamentary board chairman with authority to allot symbols. Perhaps a stubborn Mulayam, who perhaps wants to pass the party reins to his son after he is not around, would have relented."
He quotes a Kabir couplet. "Yeh na mere hai, na tere hai, yeh satta ke chere hai (They are neither mine nor yours, they are puppets of power)."
Some long-time close associates of Mulayam, however, feel that he wants his son to go through a drill, since he always said: "Bina kasht ke adhikar nahin milta. Hamari ladai lambi hai. Isme kasht hai, yatnayen hai kintu safalta avashya hai (One doesn't get power without pain. Ours is a long battle full of thornes and sufferings, but our victory is for sure)."
The hoardings that have surfaced all over Uttar Pradesh capital Lucknow with pictures of Mulayam and Akhilesh carry a cryptic message: "Loha Tap, Kundan Bhaya (You have to burn to become precious)."
It seems history is repeating itself, not in one but several ways.
Read| If SP splits, will Mulayam or Akhilesh ride the cycle into UP polls?
In 1969 when Samyuka Socialist Party had fielded politically naive Mulayam against a seasoned politician Lakhan Singh Yadav from Jaswannagar in Etawah, Dr Ram Manohar Lohia had said, "Log kehte hai kal ka chora kya chunav ladega. Mein kehta hoon yehi kal ka chora, kal ka bhavishya banayega. (People say how this young boy will contest elections. I say this young boy will make the future of many)."
Akhilesh was often derided for his age when he became chief minister, with people ludicrously referring to his inexperience and domination by uncles.
Mulayam's political journey from 1969 (his maiden election) to 1992 (when he formed his own party) has been full of struggles.
Unlike Akhilesh, he was not born in a political family, but Choudhury Charan Singh had declared him his political heir, saying politicians should take inspiration from Mulayam's life of "sangharsh and sangathan(struggle and organisational skills)".
Mulayam could not inherit the Lok Dal as Choudhury Charan Singh's son Ajit Singh, who was living abroad, returned to the country, to snatch his father's legacy from him.
The Lok Dal split into two parts -- Lok Dal (A) and Lok Dal (B), which was headed by Mulayam in UP. He later formed a five-party revolutionary front and scripted a chapter in opposition unity.
The forcible occupation of SP's office by Akhilesh supporters on Sunday was reminiscent of the ugly fight over Lok Dal office in Lucknow.
Read|Mulayam has called off Samajwadi Party convention on Jan 5, tweets Shivpal
Again, Mulayam had to fight a violent battle with Ajit Singh to become chief minister, the first time on December 3, 1989.
After losing the 1991 assembly elections, he had become a loner and decided to trek on Lohia's path.
Lohia had raised the Socialist Party after losing the polls in 1955-56. Mulayam floated Samajwadi Party on November 4, 1992.
The irony is the same leader from West Bengal, Kironmoi Nanda, who moved the resolution on Sunday electing Akhilesh as the national president of the party had then moved a similar resolution proposing Mulayam Singh's name for the same position.
The name was seconded by Kapil Deo Singh of Bihar.
Mohd Azam Khan, who on Saturday made a last-bid effort to resolve the crisis had then drafted the party's constitution, which both the factions are quoting today to declare the convention by the Akhilesh faction valid/invalid.
Read| Yadav family feud: Akhilesh takes control, unseats father Mulayam as SP chief
KS Rana who has also written a book on Charan Singh is not amused, as he says, "The glamour for power dwarfs relationships and is proven in history books."
Mulayam has a peculiar habit of checking his watch every few minutes. Perhaps at the age of 78 years he thinks his time is running out. But those who know him say don't dare write him off as the wrestler politician is famous for "charkha daav".
Incidentally, he has with him his brother Shivpal, known more for his muscle power --- instead of Ramgopal, the party's master-strategist. Again this time he has an army of extended family to defeat his only son in the war zone .
But his buddy Amar Singh has clout and contact in Delhi.
Question is will he able to retain the cycle symbol?
Or would the emotional attachments pull back the father-son to call a ceasefire to take on the "communal forces".
A one word apology by the son and one-line announcement by father on his successor can save both the family and the party .
Once when asked if he would like to declare his successor during his life time than follow the Tamil Nadu pattern, Mulayam had quipped, "Why should I bother what happens after me?"
Many like Lalu are urging him to rethink. What if he decided to do so. The cheering would be no less than what it was at the time of his or his son's election as national president.
For the latest updates on the Yadav family feud, click here