Let the Kerala floods not be another tsunami story
Aug 22, 2018 05:38 PM IST
Indian states have a weak memory of disasters, not by design, but by choice. In an era of climate variability, this could be akin to committing ecological harakiri.
In 2014, 10 years after the devastating tsunami ravaged the coastal districts of Tamil Nadu, I was in the southern state to report on the rogue phenomenon's 10th anniversary. While most people I met during the assignment — local administrators, NGO workers and people — spoke to me about the tsunami devastation, it soon became clear that they were suffering from tsunami fatigue; and, more dangerously, tsunami amnesia.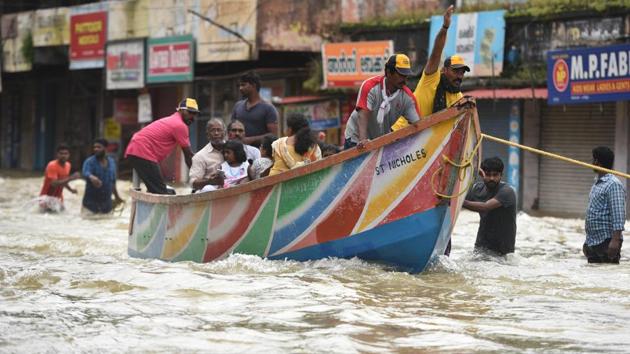 Ramachandran, a middle-ranking official at the Nagapattinam collectorate who spends his spare time digging up local history, told me: "Everyone comes to Nagapattinam either to visit Velankanni [church] or for tsunami-related stories. Why don't you write on this port town's ancient maritime trade links with Southeast Asia, China, Rome and Greece instead?"
While the fatigue was understandable (who likes to be asked about difficult times, anyway), the amnesia wasn't. The result of such amnesia was quite evident in many other places. For example, I found that in the 10 years, there had been little training of coastal communities in disaster preparedness. The public address systems in villages worked, but many of the multi-hazard centres where people are supposed to take shelter in case of any catastrophe were in a shambles. I remember the one at Cuddalore's Chidambaram block. From outside, it looked in superb condition, but when I asked for the keys to go inside the building, none of the villagers around, including a panchayat leader, knew who had the keys. In an emergency, when people would need to rush into such safe shelters, this lack of coordination and basic information could prove to be fatal.
And why single out Tamil Nadu? Uttarakhand faced one of the worst-ever flash floods in 2013. A ground report on the fifth year since the floods by environmental website, Mongabay India, says that no lesson has been learnt from the disaster so far. "State authorities are continuing with their massive construction projects in ecologically sensitive areas and are even looking at diluting the stringent rules that are in place to protect these areas."
These are just two examples. All Indian states have the same problem. The institutional memory of such disasters is weak — not by design but by choice. In an era of climate variability, this could be akin to committing ecological harakiri.
Kerala, which has coped bravely with the floods till now, must not fall into this amnesia trap. It must put in play the promise it made in its disaster management policy of 2010 to "strengthen the capacities of vulnerable communities with special emphasis on women and community-level systems for pre- and post disaster interventions".